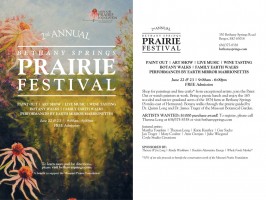 Bethany Springs Farm will host the 2nd Annual Prairie Festival near Hermann, Missouri on June 22 and 23, 2013
Join plein air artists or watch them paint, shop for fine art and crafts to benefit the Missouri Prairie Foundation, take in guided prairie botany walks, marionette show, family earth walks, and enjoy wine tasting and live acoustic music.
Art and nature lovers young and old are invited to a weekend of great art, prairie walks, and more at Bethany Springs Farm in Berger, Mo., June 22 and 23, 9:00 a.m. to 6:00 p.m. The event is free and open to the public.