By Peggy Whetzel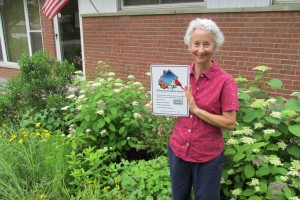 Small though it is, Fran Glass's yard could serve as the poster child for making the world a better place, one suburban yard at a time.
There are no roses, daylilies or beguiling begonias. Instead, with a gardener's guiding touch, she's sprouted a landscape brimming with 170 wild or native species ranging in size from a mighty bur oak in the back yard to a ground-hugging party of pussytoes (Antennaria) in the front.
Once common to Missouri, these and thousands more species have been steadily supplanted by ornamental trees, shrubs, vines, flowers and grasses from Europe and Asia. In the process, birds and insect populations have dwindled and even disappeared.
That's because, with rare exceptions, North American insects cannot digest ornamental plants from other continents, plants they didn't evolve with. Just because something is green doesn't mean it's universally edible. Most caterpillars can only eat certain plants. Monarch caterpillars, much in the news this year, can only eat milkweeds. Nothing else will do.