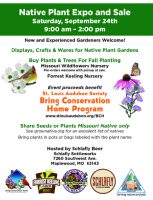 Join our Wild Ones – St. Louis Chapter members at the Bring Conservation Home (BCH)  2016 Native Plant Expo and Sale.
We will have a table at this event and would love to see you. Stop by and say hello!
This is the third year for this FREE expo, in partnership with the great folks at Schlafly Bottleworks in Maplewood. A number of organizations will be sharing information and resources.
Bring your "extra" native plants or seeds to share or swap. There will be plenty on-hand from the BCH Habitat Advisors, too. No worries if you've nothing to share; they love to give them away!
Also on-site selling plants:
Other retailers will be selling bird houses, bird baths, and related items.
A portion of all event sales will benefit the Bring Conservation Home program.
Where: Schlafly Bottleworks, 7260 Southwest Ave., Maplewood, MO 63143 (map)
Cost: Free to attend
When: This Saturday, September 24 from 9:00 a.m. to 2:00 p.m.