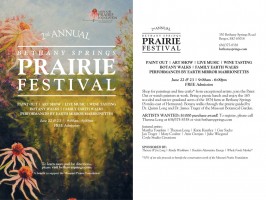 Bethany Springs Farm will host the 2nd Annual Prairie Festival near Hermann, Missouri on June 22 and 23, 2013
Join plein air artists or watch them paint, shop for fine art and crafts to benefit the Missouri Prairie Foundation, take in guided prairie botany walks, marionette show, family earth walks, and enjoy wine tasting and live acoustic music.
Art and nature lovers young and old are invited to a weekend of great art, prairie walks, and more at Bethany Springs Farm in Berger, Mo., June 22 and 23, 9:00 a.m. to 6:00 p.m. The event is free and open to the public.
Nestled in the Missouri River Wine Valley Region, Bethany Springs Farm is located 8 miles east of Hermann. The farm's 1874 stone house is centered on 165 acres that offer stunning hilltop and broad creek valley vistas. Artist Theresa Long, together with her husband Dr. Joseph Long, have been encouraging native flora at the farm since 1995, by tending and reconstructing woodland, prairie, and stream habitats. The natural diversity and beauty of the farm inspires Ms. Long's nature-themed art.
Ms. Long's passion for and commitment to conservation of the natural world led her to organize Bethany Springs Farm's first "Prairie Paint-Out" event in 2012. At last year's event, exceptional artists exhibited and sold paintings and other works of art, donating 30% of sale proceeds to the Missouri Prairie Foundation, a 47-year-old, nonprofit prairie conservation organization.
Ms. Long is expanding the event this year—now the Bethany Springs Prairie Festival—to include a wine tasting and live acoustic music by The Handlebar Band and October Surprise. Plein air artists will again participate in the Prairie Paint-Out, and artists and craftspeople will sell exceptional art, donating 30% of proceeds to the Missouri Prairie Foundation. In addition, Earth Mirror Marionettes will perform a nature-themed marionette show and offer family earth walks. Attendees are welcome to bring a picnic lunch and enjoy the day.
"We are also thrilled that Roeslein Alternative Energy is offering a $1,000 Purchase Award as a top prize for Prairie Paint-Out artists this year," said Ms. Long. "We encourage artists to register for the Paint-Out and compete for this prize. Artists can find all the details at the Bethany Springs website."
Ms. Long, who has been teaching art for 28 years, offers private art lessons, and hosts guest artists' workshops at Bethany Springs, said, "I'm gratified that my artwork can benefit the conservation of our natural world, on which all life depends, and I know many other artists feel the same." Artists showing and selling their art this year include Marty Coulter, Theresa Long, Jan Trager, Julie Wiegand, Martha Younkin, Katie Kantley, Guy Sachs, Ann Grotjan, and Coyle Studio Creations. Acclaimed wildlife photographer Noppadol Paothong will also sell and autograph copies of his book on grassland grouse, Save the Last Dance, and Paint-Out artists will sell paintings created on site from their easels.
"Last year's Prairie Paint-Out was a wonderful gift to the Missouri Prairie Foundation," said Carol Davit, executive director of the organization. "It was a fantastic, family-friendly event and this year's Prairie Festival promises to be even better. We are grateful for the generosity of the talented artists who will be donating 30% of their art sale proceeds to support our conservation work, and to our sponsors—Roeslein Alternative Energy, Whole Foods Market®, Joe and Theresa Long, and Randy Washburn. The event will also introduce more people to the importance of prairie and to the work of the Missouri Prairie Foundation."
Formed in 1966 by biologists and citizens concerned with the loss of tallgrass prairie in Missouri, the Missouri Prairie Foundation protects remaining prairie and other grassland natural communities through acquisition, management, education, and research. The Missouri Prairie Foundation owns and manages 15 tracts of original, unplowed prairies, as well as some reconstructed prairie, totaling 2,600 acres. It also is home to the Grow Native! native plant program, publishes the Missouri Prairie Journal, and hosts hikes, workshops, and other events to help introduce more people to Missouri's prairie and native plant resources.
Prairie Festival Schedule of Activities on June 22 and 23:
Dr. Quinn Long and Dr. James Trager of the Missouri Botanical Garden will lead botany walks through the farm's 15-acre prairie planting June 22 and 23 at 9:00, 10:00, 2:00, and 3:00.
Family Earth Walks will be led by Gary Schimmelpfenig and Christine Torlina at 10:00.
Earth Mirror Marionettes will perform a 30-minute show at 1:30 p.m.
Acoustic music from October Surprise will be performed June 22 from 4:00–6:00 p.m. On June 23, The HandleBars Band will play from 4:00–6:00 p.m.
Art will be on display for sale from 9:00 a.m. to 5:00 p.m. both days.
There is a $20 registration fee for artists participating in the Paint-Out. For further information, contact Theresa Long at 573-834-2075.
Bethany Springs Farm
330 Bethany Springs Road
Berger, MO 63014
573-834-2075
For directions to Bethany Springs, and to view artwork of the exhibiting artists visit the Bethany Springs website.