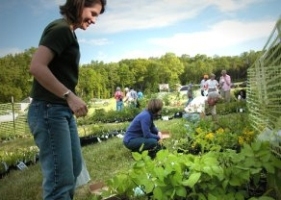 While we hope you'll come to the Wild Ones booth at the Spring Wildflower Market at Shaw Nature Reserve, here are some other options:
Missouri Wildflowers Nursery at Kirkwood Farmers' Market
When: April 4, 11, 18, 25, May 2, 8 a.m. to 4 p.m.
Where: Kirkwood Farmers' Market, 150 East Argonne (Google Map)
MWN will be at Kirkwood Market with a collection of their wonderful Missouri natives. Order by Wednesday from their catalog and they will bring your order to the market for you to pick up.
Olivette in Bloom plant sale
When: Saturday, April 25, 10 a.m. to 2 p.m.
Where: Stacy Park Pavilion, Old Bonhomme Rd. just south of Olive (Google map)
Plants supplied by Missouri Wildflowers Nursery. Great prices!
More info: www.olivetteinbloom.org
Missouri Prairie Foundation Native Plant Sale
When: May 2, 9:00 a.m. to 3:00 p.m.
Where: Whole Foods Market, Town & Country (Google map)
A fabulous selection and quantity of choice native perennials, grasses, sedges, vines, shrubs, and trees supplied by Missouri Wildflowers Nursery. To pre-order, contact Missouri Wildflowers Nursery at 573-496-3492 or mowldflrs@socket.net. A portion of the proceeds will benefit MPF's conservation work.
Master Gardener plant sale
When: May 2 & 3, 9 a.m. to 3 p.m.
Where: Greenhouses behind South Technical High School, 12721 West Watson Rd, 63127 (Google map)
This year there will be over 30 species of natives available as well as a wide variety of annuals, perennials, vegetables, herbs and aquatic plants. Most natives were started from seeds collected at the St. Louis Museum of Transportation or purchased from Missouri Wildflowers Nursery. Proceeds benefit the St. Louis Master Gardeners and help fund their contributions to community groups.