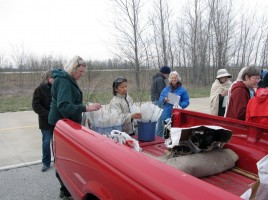 Little Creve Coeur (Lake) Restoration Project site was our meeting location.
Betty Struckhoff offered the remaining shrub and tree seedlings from our group purchase.
President Ed Schmidt welcomed 23 members and one guest.
Announcements and Volunteer Opportunities
Crossroads School Rain Garden
Earlier this year we awarded a grant for native plants to Crossroads College Preparatory School for a front entrance rain garden enhancement.  They need a few volunteers to help plant the garden on April 6 at 9am for one-half day.
Membership
Betty Struckhoff discussed membership benefits.
Wild for Monarchs Campaign Liaison
Wild Ones has partnered with Monarch Joint Venture and Monarch Watch's Bring Back the Monarchs program to present a Wild for Monarchs Campaign.  Ed described a volunteer opportunity for a chapter member to serve as contact person for the national Wild Ones campaign.
School Grants Liaison
Glenda Moore has accepted our School Grants Liaison volunteer position.  She will be our contact person with schools and institutions that apply for grants.  We hope to receive more grant applications.
St. Louis Earth Day Festival in Forest Park – April 21
Seedling wrapping – April 20
Fran Glass circulated volunteer sign-up sheets to staff our educational booth at the Festival and for wrapping MDC seedlings to give away.
Spring Wildflower Market at Shaw Nature Reserve – May 10 and 11
Marilyn Chryst circulated sign-up sheets to set up, staff, and take down our native plant sale booth at the Spring Wildflower Market.
Program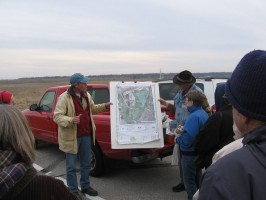 Tour of Little Creve Coeur (Lake) Restoration Project hosted by Dennis Hogan.
Dennis Hogan is the environmental resource person for St. Louis County Parks, and manages the naturally landscaped areas.
Dennis discussed the natural history of the Restoration Project site.  The project is the result of mitigation by the Missouri Department of Transportation from the Page Avenue Extension.
Next meeting:  May 1, 6:30 p.m.
Sommett Place off Old Big Bend Rd subdivision in Kirkwood
Get directions
Recorded by:  Fran Glass, Secretary