PROGRAM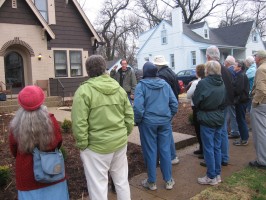 Twenty-six Wild Ones members and seven guests attended the April yard tour and meeting at Marsha Gebhardt's Ferguson residence. Marsha has new plantings in the front yard, designed and installed last fall by Simon and Monica Barker. Simon attended our meeting to talk about the project and answer questions. Outdoors he talked about designing on the site, which was a blank slate except for one mature tree. Marsha had hoped for members to give ideas for landscaping the back yard. However after all the wet weather, it was decided we not walk through the back yard.
Indoors, Marsha had prepared a PowerPoint presentation showing photos of the planting, list of plants and plant diagram. However, due to the large number of attendees, she circulated copies of the plant list instead. Simon answered more questions about the planting design.
MDC shrub seedling distribution
Betty Struckhoff, Liz Jones and Premsri Barton distributed the MDC seedlings from our group order that was placed last fall and sold extras to meeting attendees. Most extras were sold.
The remaining seedlings will be donated to Forest ReLeaf of Missouri, whose mission is to provide trees for public and nonprofit plantings and present educational programs to increase stewardship of the trees and forests in Missouri and surrounding regions.
ANNOUNCEMENTS
School Grant Work Days
The following schools have been awarded grants by Wild Ones for native gardens landscape design. Help from Wild Ones members is requested as follows:
Saul Mirowitz Jewish Community School
Help remove honeysuckle April 6.
Berkeley Middle School – 8300 Frost Avenue, Berkeley, MO
Help with planting on one or both Tuesdays after school, April 29 3-5pm and May 6 3-5pm.
Edgar Denison Day at the Kirkwood Farmers Market – April 19
We will staff a Wild Ones information table at the Kirkwood Farmers Market's annual Earth Day event on Saturday, April 19. To volunteer, contact Alan Hopefl or Ed Schmidt.
This is one of the many events this spring celebrating of the work and life of Edgar Denison. For information about Edgar Denison and all the events, visit the Kirkwood in Bloom website.
St. Louis Earth Day Festival in Forest Park – April 27
Seedling wrapping – April 26.
Fran Glass circulated a sign-up sheet for volunteers to help with seedling wrapping.
Spring Wildflower Market at Shaw Nature Reserve – May 9 and 10
Marilyn Chryst circulated a sign-up sheet for volunteers to help set-up, staff, and take down our native plant sale booth at the Spring Wildflower Market. We also need sawhorses for our booth. Marilyn requested that members who own sawhorses contact her.
Bring Conservation Home – Habitat Advisor training – April 5
Betty Struckhoff announced that a free training session for new Habitat Advisors will be held April 5, 2014 from 9 a.m. to 4 p.m. Bring Conservation Home is a program that encourages homeowners to support our local ecosystem by using more native plants in their landscapes, using suggested stormwater control methods and attracting interesting wildlife. BCH is sponsored by St. Louis Audubon, and Wild Ones is a supporting partner.
Master Gardener Plant Sale at South County Technical School – April 25 – 28
Betty announced that native plants will be on sale this year at the Master Gardener Plant Sale. Some were started from seeds collected at the Missouri Transportation Museum. Others were grown from purchased seed and some plants have been purchased from Missouri Wildflower Nursery for re-sale.
Betty expressed hopes that a good turnout for the natives will show other Master Gardeners there are plenty of us who recognize the importance of native landscaping to our ecosystem.
Partners for Native Landscaping workshop
Doug Tallamy, author of "Bringing Nature Home: How You Can Sustain Wildlife with Native Plants" was the keynote speaker at this year's Partners for Native Landscaping workshop on March 21 and 22. The Saturday event was sold out, attended by 350 people.
Chapter Board of Directors Meeting Report
Ed reported that our recent board meeting format has been to have a general discussion on a relevant topic. Leadership development and engaging members to become more involved was the topic at the March BOD meeting.
Ed has accepted the position of President Elect for another not-for-profit organization. This is a three-year commitment that will start in May, and he is interested in delegating some Wild Ones responsibilities.
Marilyn Chryst stated that participation is part of belonging to an organization; the health and strength of an organization depends on many members becoming involved.
In order to encourage more membership involvement, it was decided to reschedule the next board meeting to Saturday, July 12 following the yard tour at Fran's. Members will be invited to stay for the board meeting. The board agenda will be sent to the membership via email.
NEXT MEETING: May 7, 2014, 6:30 p.m.
Yard tour at the home of Susan Leahy
Susan says we could have scheduled this tour in any month because plantings in her yard are planned so things are blooming in constant succession. A recent visitor reports, "[The] yard is over the top." In Brentwood — just south of Manchester between Brentwood and McKnight.
For directions, see our online calendar.
Recorded by: Fran Glass, Secretary