President Ed Schmidt welcomed 19 members and one guest to this month's yard tour and meeting.  Three members of the Chesterfield Citizens Committee for the Environment also attended the yard tour.  The Committee's participation was a key reason for Chesterfield being chosen as the location for the 2011 Landscape Challenge.
Program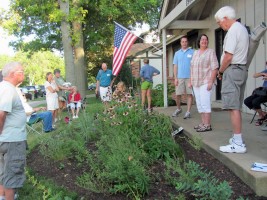 Yard tour at the home of Neil and Erica Rose, recipients of the 2011 Landscape Challenge planting.  Jeanne Cablish gave an overview of her process for the design for the front yard makeover.
Neil and Erica described that in the six years since they purchased the home in "As Is" condition, much work has been done.
In addition to indoor improvements, Neil and Erica have extensively transformed the large back yard.  A row of ten fruit trees now helps nourish the family.  One border of their back yard has been made into a blueberry patch, the opposite side of the yard into a blackberry patch.  The family's commitment to gardening was one of the reasons they were chosen as winners.
Neil and Erica converted a concrete basketball court into a vegetable garden consisting of three large raised beds and adjacent compost bins. This year's numerous, prolific vegetable plants are all volunteers from the compost bin.  The two Rose children are very much involved in planting, weeding and harvesting.
As their latest project, already prepped along the long back fence line is a native plant garden in the making.  We gave Neil and Erica information about the September 6 Shaw Nature Reserve Wildflower Market, Missouri Wildflower Nursery information, and we invited them to our November 6 Potluck Dinner and Seed Exchange.  Marilyn Chryst offered packaged Purple coneflower seeds to the family and all attendees.
Announcements and Volunteer Opportunities
Chapter Website and Blog
Amy Redfield announced that our blog posts can also be accessed through Facebook.  She asked if anyone would like help out by lending their expertise in using a utility like Vine for short videos for the Facebook page or for the blog.
Brian Hall updated us on changes to our chapter website, including the new calendar.  Anyone interested in learning how to post blogs on the website may contact Brian for instructions.  We also have new photo galleries, and photo submissions are appreciated.
Wild for Monarchs Campaign Liaison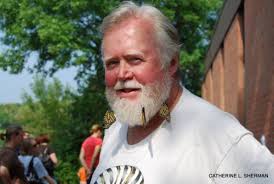 Ann Early, our chapter campaign liaison, announced that the founder and director of Monarch Watch will be presenting in St. Louis this fall.  Dr. Orley R. "Chip" Taylor will be guest speaker at the Missouri Prairie Foundation's annual dinner, to be held Saturday, Sept. 7, 2013 at Alberici Corporate headquarters in St. Louis. Dr. Taylor will speak on "Monarch Conservation — Challenges and Opportunities." Trained as an insect ecologist, he is a professor in the Department of Ecology and Evolutionary Biology, University of Kansas, Lawrence, Kansas.  For more info, go to www.moprairie.org.
Wild Ones has partnered with Monarch Joint Venture and Monarch Watch's Bring Back the Monarchs program to create the "Wild Ones' Wild for Monarchs Campaign."
2013 Landscape Challenge
Amy Redfield circulated a sign-up sheet for members and guests to help on planting day, September 21.  Jeanne Cablish circulated her design for the front yard makeover.  The winner's home is in the city of St. Louis off McCausland Avenue, in the Franz Park neighborhood.  Kathy Bildner, who lives nearby, announced that the neighborhood will hold an event promoting sustainability on the same date and might help publicize the Wild Ones planting.
We co-sponsor the yearly Landscape Challenge with Shaw Nature Reserve and the Missouri Prairie Foundation's Grow Native! program.
Spicebush caterpillar
Kathy Bildner brought a spicebush swallowtail butterfly caterpillar, which she found in her yard.  It's an amazing creature, and it was a treat to see it.
Next meeting:  September 4, 6:15 p.m.
Tour of the Operation Brightside native garden on Shenandoah, near the intersection of Kingshighway and Vandeventer.
For directions, see our online Calendar.
Recorded by:  Fran Glass, Secretary