by Betty Struckhoff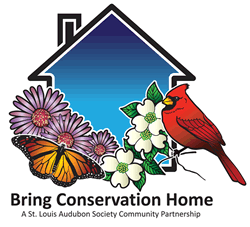 2014 is the third year of Bring Conservation Home, a program encouraging homeowners to support our local ecosystem by using more native plants in their landscapes.  BCH is sponsored by St. Louis Audubon and St. Louis Wild Ones is a supporting partner of the program.
For a nominal fee, two Habitat Advisors from BCH meet with a participant at his or her home, touring the property and discussing interests and goals.  The advisors then provide a detailed written report with suggested native plants adapted to the conditions of the property, along with recommendations on storm water control and attracting interesting wildlife.
In 2013, fifteen Wild Ones members participated in the program as Habitat Advisors.  As one of them, I can say it involves a bit of work, particularly in writing up the report for the homeowner.  But the rewards far exceed the costs in time and effort.  Habitat Advisors:
Get to meet people who are interested in creating native habitat.  Some are totally new to the idea.  Others are very experienced and interested in making their property even more attractive.  All are enthusiastic about native landscaping.
See interesting landscapes.  If you enjoy Wild Ones meetings at members' homes, you will enjoy seeing what others are doing with native plants.
Meet other volunteers who are equally enthusiastic and possess a wide knowledge of creating native habitat.  Many are Missouri Master Naturalists.  Others are professional landscapers.  At least one is a PhD botanist working at the Missouri Botanical Garden.
Learn.  Writing a report usually finds me googling a suspected invasive plant or sharing ideas from my own experience in my yard or from Wild Ones meetings and other activities.
If you think you are not knowledgeable enough to be an advisor, think again (position description).  If you have a year or two of native landscaping experience and a willingness to learn, you are a great candidate.  Newer advisors are always paired with experienced ones when they begin.  And you schedule consultations based on your time constraints and interests.  BCH asks that advisors commit to doing 6-12 consults in a year.
A free training session for new Habitiat Advisors will be held April 5, 2014 from 9 a.m. to 4 p.m.  Click here for more information and an application form.
If you would like a BCH consult for your home, just fill out the online application.  Wild Ones members may schedule a consultation for the nominal fee of $25.