The preseason and spring events have begun. April's activities will be announced later, and you might have trouble choosing which programs to attend as there are so many! For now, here's what we are attending and/or are aware of for February and March. Grab your notepads and questions and prepare to Dig In!
When: Saturday, February 11 from 10:00 a.m. – 3:00 p.m.
What: Preseason Gardening Expo
Where: Rolling Ridge Nursery, 60 N Gore Ave, Webster Groves, MO 63119
About: This event will have local landscape designers, local growers, local green industry experts, a naturalist, plant societies, kids seed starting, refreshments, and prizes
Note: Our Wild Ones – St. Louis Chapter will have a table at this event.
When: Saturday, February 11 from 1:00 – 3:00 p.m.
What: The First GROW Seed Swap
Where: Outside Pavilion at the Saint Louis Science Center, 5050 Oakland Ave, St. Louis, MO 63110
Cost: Free and open to the public
About: This event is NOT focused on native plants but may be a way to educate others about the benefits of landscaping with native plants and participate in the seed swap (at least giving away seeds) and other activities. "Share seeds with other gardeners or just come to learn about the age old tradition of saving and sharing seeds. The GROW seed library will be open and visitors can check out seeds. When you check out seeds, you then grow your own stock of seeds for future plantings, to return to the seed library and for sharing."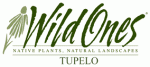 When: Monday, February 27 at 7:00 p.m.
What: Wild Ones – Tupelo Chapter garden design workshop
Where: Carbondale Civic Center, Room 111
Cost: Free and open to the public
About: This presentation will be given by Horticulturist Sonja Lallemand and will focus on plant choices, primarily Illinois native flora that nurture and feed animals and require minimal care.

When: Wednesday, March 1 at 7:00 p.m.
What: Wild Ones – St. Louis Chapter March Gathering
Where: THE HEIGHTS community center in Richmond Heights
Cost: Free and open to the public
About: Landscaping with Native Trees & Shrubs by our own resident expert Betty Struckhoff
When: Wednesday, March 1 with Early Bird Session from 8:00 – 9:00 a.m. and conference 9:00 a.m. – 4:10 p.m.
What: Gateway Green Industry Conference
Where: Gateway Convention Center, One Gateway Drive, Collinsville, IL
Registration: They request pre-registration by February 24 – detailed online pdf brochure and registration form
Cost: $80.00/person, Certified Master Gardeners and full-time students $50.00, walk-in $85.00
About: Keynote address by Neil Diboll, President of Prairie Nursery, Inc. on Savanna Plants for Urban and Suburban Gardens. Four Breakout Sessions are scheduled. CEU's are available.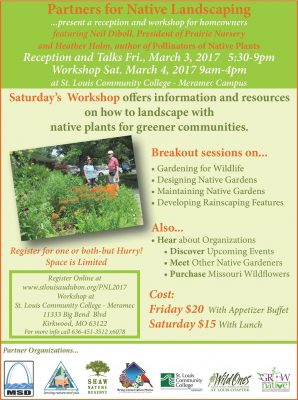 When: Friday, March 3 from 5:30 – 9:00 p.m. and Saturday, March 4 from 9:00 a.m. – 4:00 p.m.
What: 6th Annual Partners for Native Landscaping Workshop
Where: St. Louis Community College – Meramec
Cost: $15 for Saturday and $20 for Friday evening.
Registration: Required and available on the Audubon website
About: Keynote speakers on Friday will be Heather Holm, author of Pollinators of Native Plants and Neil Diboll, President of Prairie Nursery, Inc. Saturday's workshop provides opportunities to learn about gardening for wildlife, designing native gardens, and developing rainscaping features. Native plants will be available to purchase.
Note: We are looking for Wild Ones members to volunteer during the workshop. As a thank you, you may attend the workshop for free on the day you volunteer. Visit the new Dig In! page on our website to sign up for a volunteer spot. [Update 2/25: We have one volunteer opening left.]
When: Tuesday, March 7 from 11:00 a.m. – noon
What: Member Speaker Series: Gardening with Native Plants: The Art of Plant Combinations
Where: Missouri Botanical Garden (MoBot), Shoenberg Theater
Cost: Free, MoBot members only
Registration: Required. Registration link
About: Horticulturist Scott Woodbury from Shaw Nature Reserve will discuss native flower types to grow in an ideal Missouri setting. Member Speaker Series.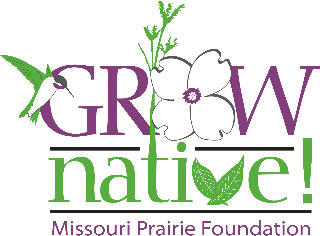 When: Friday, March 10 from 7:30 a.m. – 12:30 p.m.
What: Southwest Illinois Grow Native!
Native by Design: Purposeful Landscapes for Monarchs and Pollinators for Your Yard or Land
Where: Nelson Center at Lewis and Clark Community College in Edwardsville, IL
Cost: $35, students $20
Registration: Required – Click on the link above.
About: "This native landscaping workshop will provide information to home gardeners; landowners; landscape, landcare, and wildlife professionals; stormwater engineers; and other related professionals about how to use native plants to sustain monarchs and pollinators, songbirds, and other important wildlife. TA breakfast buffet will be provided, and exhibitors will display information as well. CEUs available for Landscape Architects and Illinois Master Gardeners and Master Naturalists."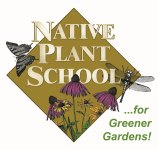 When: Friday, March 10 from 1:00 – 4:00 p.m.
Where: Shaw Nature Reserve
What: Maintaining a Successful Native Garden by Scott Woodbury
Cost: $17.00 for non-members; $14.00 for members
About: "I strive to shape gardens to fit into our neighborhoods, our yards and minds. Successful gardens get weeded, watered and mulched. Plants are divided, pruned and removed when they show up in the wrong place. This class will show you how to enhance and maintain an enjoyable and beautiful garden."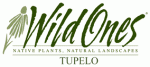 When: Sunday, March 12 at 2:00 – 3:00 p.m.
What: Wild Ones – Tupelo Chapter Landscaping with Native Grasses
Where: Henry N. Barkhausen Cache River Wetlands Center (2 hours, 20 min from downtown STL, but it's worth mentioning)
About: "Many folks are familiar with native wildflowers like purple coneflower and butterfly milkweed. But do you know which native grasses are suitable for ornamental plantings? Which grasses are good companions for wildflowers? Do you know that grasses and sedges are larval food plants for some moths and butterflies?"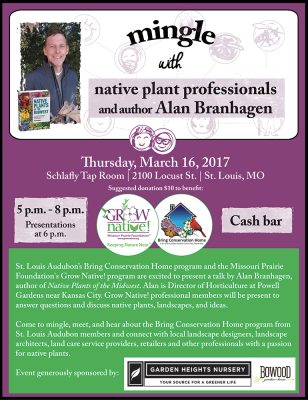 When: Thursday, March 16 from 5:00 – 8:00 p.m. with presentations starting at 6:00 p.m.
What: Mingle with native plant professionals and author Alan Branhagen
Where: Schlafly Tap Room, 2100 Locust St., Saint Louis, MO 63103
Cost: Suggested donation $10.00 to benefit Grow Native! and Bring Conservation Home.
Cash Bar
About: "St. Louis Audubon's Bring Conservation Home program and the Missouri Prairie Foundation's Grow Native! program are excited to present a talk by Alan Branhagen, author of Native Plants of the Midwest. Alan is Director of Horticulture at Powell Gardens near Kansas City. Grow Native! professional members will be present to answer questions and discuss native plants, landscapes and ideas.
Come to mingle, meet and hear about the Bring Conservation Home program from St. Louis Audubon members and connect with local landscape designers, landscape architects, land care service providers, retailers and other professionals with a passion for native plants."