By Bill and Linda Bennett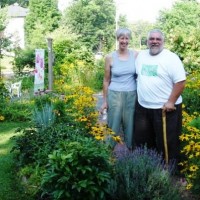 We got interested in the virtues of native plants after hearing Scott Woodbury give a short talk at a gardening workshop at Meramec Community College many years ago, and began planting shortly after that. We have no idea how many species we've accumulated over the years, but we have plants that enjoy a variety of conditions — from sunny and wet or dry in the front yard, to shady and wet or dry in the backyard.
Multitudes of different kinds of bees, wasps, and birds enjoy the pollen and seeds from the plants, shrubs and trees. We enjoy the first trilliums and May apples in the spring to the diversity of asters in the fall. Every season brings new colors, sizes and textures of flowers.
We've enjoyed our yard for many years, but now have the house on the market. We would love to have someone buy it who appreciates and will nurture the native plantings. Find out more on our website listings: www.547NirkAve.com or www.stlouishome.com.