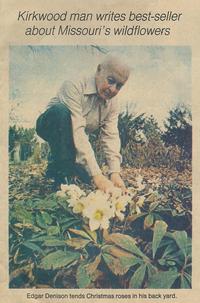 The life of Edgar W. Denison (1904-1993), late resident of Kirkwood, MO, amateur naturalist, botanist, artist, and early leader in environmental sustainability, will be celebrated in Kirkwood this spring with events promoting education and appreciation of Missouri's natural assets. All events are free and open to the public.
Edgar Denison Nature Education Series at Kirkwood Public Library, 140 E. Jefferson. All presentations begin at 7:00 PM.
Edgar Denison: A Modern Johnny Appleseed. Monday, April 14th, 7:00 PM. A panel discussion on the life and contributions of Edgar Denison. Moderated by Scott Woodbury, Curator of Whitmire Wildflower Garden, Shaw Nature Reserve. Panelists include Dr. Peter Raven, Dr. George Yatskievych, Tom Ott, Lesley Schoedinger, and Bill Ruppert. First Presbyterian Church of Kirkwood, 100 East Adams.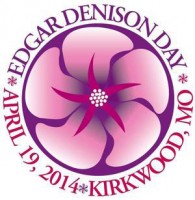 Edgar Denison Day. Saturday, April 19th, 10 AM to 3:00 PM, Kirkwood Farmers' Market (Argonne and Taylor), in conjunction with Kirkwood Living Green's Earth Day celebration. Includes exhibitors and native plant sellers, kids' activities and music.
At 10:00 AM dedication of an Edgar Denison Memorial Garden, designed by Kirkwood resident June Hudson, Supervisor of the Kemper Home Demonstration Gardens at the Missouri Botanical Gardens.
Spring Wildflower Walk. April 19th at 1:30 PM at Kirkwood's Emmenegger Nature Park, (11991 Stoneywood Drive) led by Dr. George Yatskievych, Curator and Director- Flora of Missouri Project at Missouri Botanical Garden and Editor of Steyermark's Flora of Missouri.
For more information, visit the Kirkwood In Bloom website.