This month we hosted a joint meeting with the Richmond Heights Garden Club. Twenty-eight Wild Ones members and guests too numerous to count filled a large meeting room at The Heights Community Center in Richmond Heights.
ANNOUNCEMENTS
Wild Ones and the Richmond Heights Garden Club are both sponsoring a planting project in Dogtown. The project is a Native Demonstration Garden at Tamm and Clayton Avenues. Kate Lovelady announced that Dogtown's Eco-Village members, who promote sustainable living, will plant and maintain the garden. Wild Ones granted funds for landscape designer Jeanne Cablish to prepare the garden design. Richmond Heights Garden Club will fund the plants. Donations of extra native plants from members' yards are also welcome.
Native Landscaping Garden Tour
The community-wide Native Landscaping Garden Tour that Wild Ones will co-sponsor with Shaw Nature Reserve has been postponed for one year due to illness of the project coordinator.
Partners for Native Landscaping workshop
Doug Tallamy, author of "Bringing Nature Home: How You Can Sustain Wildlife with Native Plants" will be the keynote speaker at this year's Partners for Native Landscaping workshop on March 21 and 22. Advance registration is required.
Wild Ones volunteers will help with registration, and staff a Wild Ones' information table.
Native Plant School at Shaw Nature Reserve
Our chapter is a co-sponsor of the Native Plant School at SNR. The next session is scheduled for March 13, and will cover Greenhouse Propagation.
Edgar Denison Day at the Kirkwood Farmers Market – April 19
Alan Hopefl circulated a volunteer sign-up sheet to staff a Wild Ones informational table at the Kirkwood Farmers Market's annual Earth Day event on Saturday, April 19. This is one of the many events this spring celebrating of the work and life of Edgar Denison.
For information about Edgar Denison and all the events, visit the Kirkwood in BLOOM website.
St. Louis Earth Day Festival in Forest Park – April 27; seedling wrapping – April 26
Fran Glass circulated volunteer sign-up sheets to staff our educational booth at the Festival and for wrapping MDC seedlings to give away.
Bring Conservation Home – Habitat Advisor training – April 5
Betty Struckhoff announced that a free training session for new Habitat Advisors will be held April 5, 2014 from 9 a.m. to 4 p.m. Bring Conservation Home is a program that encourages homeowners to support our local ecosystem by using more native plants in their landscapes, using suggested storm water control methods and attracting interesting wildlife. BCH is sponsored by St. Louis Audubon, and Wild Ones is a supporting partner. For more information, visit the St. Louis Audubon website.
MDC shrub seedling orders
Betty Struckhoff recruited volunteers to help package MDC seedlings from our group order that was placed last fall. The orders will be packaged on March 31 at 1pm and will be distributed at our April 2 meeting.
Spring Wildflower Market at Shaw Nature Reserve – May 9 and 10
Marilyn Chryst began recruiting volunteers to help set-up, staff, and take down our native plant sale booth at the Spring Wildflower Market.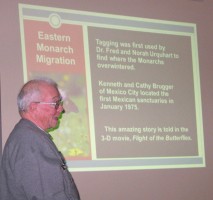 PROGRAM
Ann Early and Bob Siemer gave a presentation on Monarch butterflies and the "Wild for Monarchs" Campaign.
Via PowerPoint presentation, Ann relayed that the national organization of Wild Ones has partnered with Monarch Joint Venture and Monarch Watch's Bring Back the Monarchs program to help the monarchs and their migration. Monarch Joint Venture is comprised of 13 partners who are focused on preserving the Monarch butterfly. Monarch Joint Venture is working throughout the U.S. to conserve and protect monarch populations and their migratory phenomenon by implementing science-based habitat conservation and restoration measures. The goals are habitat conservation, education and outreach, research and monitoring.
A Wild Ones committee has developed information, materials, presentations and contacts which officially became the Wild for Monarchs campaign. The campaign is "designed to harness the power of our national membership and 50 local chapters to educate and advocate for the monarchs and the native plants that support the monarch population and their migration."
Bob showed a PowerPoint presentation that he prepared for the Rockwoods School District's second grade gifted-learners program and a slide presentation for adults. The adult presentation included: the Wild Ones mission and contact info, monarch life cycle, illustration of how to differentiate male from female monarchs, migration, longevity of each generation, decline of monarchs, wintering sites, threats to monarchs in Mexican overwintering habitat, threats to monarchs in the United States, and the fact that Missouri is a critical breeding area.
Ann then described how we can help monarchs and other butterflies by planting milkweed, other larval host plants, and nectar plants that will bloom in three seasons. We can help restore nature one yard at a time.
The following species of milkweed are recommended by Wild Ones as best for our area:
Common milkweed (Asclepias syriaca), swamp milkweed (A. incarnata), whorled milkweed (A. verticillata), and butterfly weed (A. tuberosa). A. tuberosa can grow in clay soil and is drought-tolerant.
For more information about the monarchs and their migration, visit the Wild For Monarchs webpage.
NEXT MEETING: April 2, 2014, 6:00 p.m.
Yard tour and consult at the home of Marsha Gebhardt, Ferguson, MO
Marsha has new plantings in the front yard, designed and installed by Simon Barker. Simon and Monica are expected to attend. The back yard still needs your ideas.
For directions, see our online calendar.
Recorded by: Fran Glass, Secretary