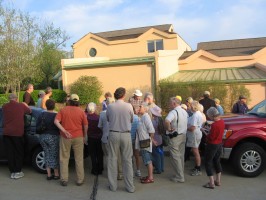 The Sommett Place off Old Big Bend subdivision in Kirkwood was our meeting site.
President Ed Schmidt welcomed 8 guests and 29 members.
Announcements and Volunteer Opportunities
Membership
Betty Struckhoff discussed membership benefits.
St. Louis Earth Day Festival
Fran Glass thanked the 18 volunteers who staffed our educational booth at the Festival and wrapped 400 Missouri Department of Conservation seedlings to give away. There were a total of 26 volunteer shifts.
Spring Wildflower Market at Shaw Nature Reserve – May 10 and 11.
Marilyn Chryst circulated sign-up sheets to set up, staff, and take down our native plant sale booth at the Spring Wildflower Market.
Native Plant Scavenger Hunt at the Museum of Transportation – Thursday, June 20, 7p.m. Volunteer opportunity.
Saint Louis County Parks will offer a scavenger hunt. Adults and children will use clues to find interesting native plants, and learn how they can attract birds, butterflies and other wildlife.  Betty Struckhoff circulated sign-up sheets for volunteers to help from 6:30-8:30 p.m. to coach participants and talk informally one-on-one about the benefits of native plants.
Contact Betty Struckhoff, 314-966-8404 to volunteer.
Landscape Challenge
We co-sponsor this yearly event with Grow Native! (a program of the Missouri Prairie Foundation) and Shaw Nature Reserve.  The 2013 Landscape Challenge is available to homeowners who had a yard survey done by St. Louis Audubon Society's "Bring Conservation Home" program and who live in St. Louis City and County outside the Deer Creek Watershed.
Partners for Native Landscaping – Workshop for Homeowners
The February 23 workshop at Powder Valley Nature Center was filled to capacity.  The partners are looking for a larger venue for February, 2014 with plans to host keynote speaker Doug Tallamy.
School Grants Liaison
Glenda Moore has accepted the volunteer position of chapter School Grants Liaison.
Wild for Monarchs Campaign Liaison
Ann Early has accepted the volunteer position of chapter liaison for the national Wild Ones' Wild for Monarchs Campaign.  Wild Ones has partnered with Monarch Joint Venture and Monarch Watch's Bring Back the Monarchs program to create this campaign.
Program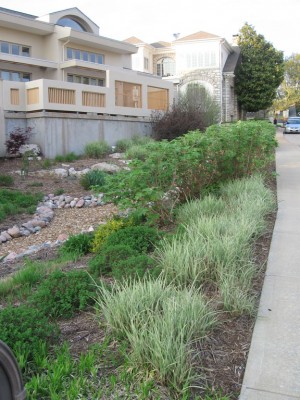 Sommett Place off Old Big Bend subdivision is located on a steep grade that creates a challenge for storm water management.  Extensive landscaping uses a unique rain garden detention system, and very little traditional grass lawn.  The homes were built incorporating green construction to maximize energy efficiency and temporarily store roof storm water in over-sized gutters.  Our tour guides were Scott Woodbury of Shaw Nature Reserve who gave a history of the site, and Sue Charies of Wild Horse Botanicals Horticultural Services who maintains the rainscape landscape.
Due to the steep grade of this site, Metropolitan Sewer District enforces strict regulation of the dry streambed.  Scott and Sue led a walking tour of the site.
Next meeting
As a trial format, the same yard tour will be offered twice.  Choose one meeting to attend:
Wednesday, June 5, 6:30 p.m.   OR   Saturday, June 8 at 9:30 a.m.
Yard tour at the home of Diana Oleskevich near Tower Grove Park. We will meet at the park and walk from there.
Get directions
Recorded by:  Fran Glass, Secretary