By James Faupel
Vice-President, Wild Ones- St. Louis Chapter
Outreach and Speaker Coordinator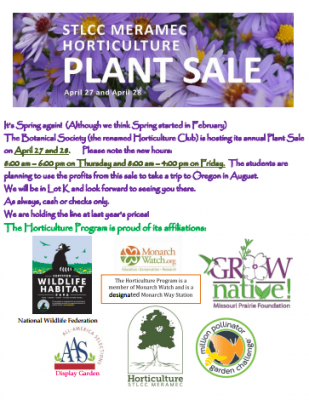 This week the Meramec Botanical Society at St. Louis Community College Meramec will be hosting their annual Horticulture Plant Sale on April 27 and 28. They will have around twenty different native perennials available for purchase, along with the other ornamental plants they have grown.
STLCC Meramec Horticulture has become a very good partner to the Wild Ones – St. Louis Chapter:
Recently they hosted our collaborative Partners for Native Landscaping Workshop. It was a big success with more than 500 attending!
Also, some of the members of their Botanical Society have joined as members of our Chapter.
Their Society President, Robert May, joined our Landscape Challenge crew as the designer on this year's project!
Please show your support and visit their sale if you are in need of plants.
Attached is the sale flyer and list of plants they will have – STLCC Plant Sale Catalog 2017.
Please also note the new hours: 8:00 a.m. – 6:00 p.m. on Thursday and 8:00 a.m.– 4:00 p.m. on Friday.
The students are planning to use the profits from this sale to take a trip to Oregon in August. They will accept cash or checks only. Email ccoyne@stlcc.edu with any questions you may have.
Location: West Parking Lot K
Horticulture at STLCC – Meramec
11333 Big Bend Road, St. Louis, 63122
Map to main campus