May 6, 2017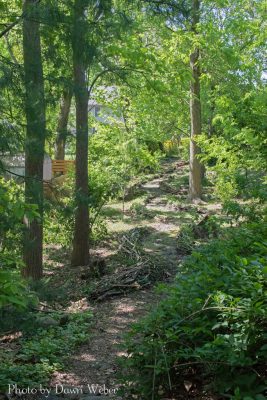 Forty-one members attended our May yard-tour gathering hosted by Dale Dufer and Jean Ponzi. Marsha Gebhardt presided.
Dale and Jean moved into their home in 1994. At that time the yard was full of invasive trees including tree-of-heaven (Ailanthus altissima), bush honeysuckle (Lonicera maackii), and storm damaged trees. Over the years they have removed the invasive species. However maintenance is ongoing because tree-of-heaven is a prolific seeder and seeds continue to germinate long after the tree is removed.
To create a sanctuary for nature, Dale and Jean replaced the invasive species with several species of native trees, shrubs, and forbs including:
Gray dogwood (Cornus racemosa)
Pawpaw (Asimina triloba)
Basswood (Tilia americana)
Viburnum (Viburnum sp)
Service berry (Amelanchier arborea)
Tulip tree (Liriodendron tulipifera)
Redbud (Cercis canadensis)
Bald cypress (Taxodium distichum)
Jean credits Dale with doing most of the gardening and the aesthetics, due to his sense of order. He has created attractive bed borders using honeysuckle branches from the invasive shrubs he has removed. He also uses the honeysuckle branches to create attractive tables.
Wildlife visitors include owls, hawks, possum, turtles, squirrels, rabbits, and numerous birds.
Plant Give-aways
Several members brought seedlings or transplants from their yards to share.
Spring Wildflower Market at Shaw Nature Reserve – May 12 and 13
Online sign-up is available through our website's new volunteer management feature. Early in the week Dawn Weber will post a list of plants we will have for sale. Shop our booth first as this event funds all our programs for the year. [Editor's note: Stay tuned for a blog post about this event.]
Next Gathering
Yard tour at the home Besa Schweitzer
Choose Wednesday evening June 7, 6:30 p.m. OR
Saturday morning, June 10, 9:30 a.m.
Carpooling is encouraged. Please bring a lawn chair.
[Editor's note: Watch for the highlights from Besa's yard. Next yard tour is Sherri DeRousse. Choose Wednesday, July 5 at 6:30 p.m. or Saturday, July 8 at 9:30 a.m.]
Recorded by: Fran Glass, Secretary and Membership Chair
Photos by Dawn Weber, Member-at-Large, Plant Sale Chairperson, and Chairperson, Technology Committee
[Editor's note: Jean Ponzi sent some informative and fun information about some of the pictures used in the photo gallery below. And guess what hyper-local materials are…sticks from their yard!]
Photo #7: Trumpet Vine creeping over the vestige of stump from a giant oak that died shortly after we moved in. Planted that Trumpet Creeper as an anniversary plant, would NOT do that again – it creeps EVERYWHERE, and has never bloomed (too shady with all our trees). Live, Learn, Uproot. Red Oak was the largest tree on our property when we bought the place in '94, and still healthy when we were married at home the next year. This tree was big enough to hide this bride who ceremonially emerged around its noble trunk. We hired a local crane operator to pick up its main branch when the tree sadly had to come down and that branch, slowly decomposing, borders Jean's clothesline area to this day.
Photo #8: Duck sculpted from Missouri River trash by Washington High School art student associated with Missouri River Relief cleanup, festooning delta of River DuFer West Branch (drainage features on both sides or our property), beside the kind of stick fence Dale makes from tree/bush waste to border the many native planting islands around the yard (photo #5).