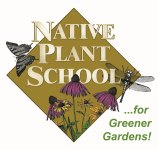 The April edition of The News from Native Plant School contains topics on:
Shaw Wildflower Market, Saturday, May 7, 9 a.m. – 4 p.m. Member pre-sale, Friday, May 6, 4-7:30 p.m.
Spotlight on willows
SNR plants have added value
A garden for zebras and tigers
Mycorrhizal fungi
Monarch garden resources
Working trees
The dirt on soil
Gardening Tips
Million Pollinator Garden Challenge
Wild Ones Gathering, April 6, 6 p.m.
Grow Native! workshop, "Living Landscapes: Native Plants Get Us Back to Our Roots", May 14
Upcoming Classes:

Spring Flowering Perennials and Grasses, May 12
Flower Arranging with Native Plants, June 9

Garden Tours:

The Sustainable Backyard Garden Tour, Sunday, June 12
The St. Louis Native Plant Garden Tour, Saturday, June 18
To sign up for the newsletter, e-mail Besa Schweitzer (besa.schweitzer@mobot.org).