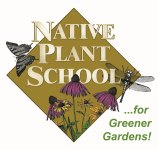 The April edition of the Native Plant School newsletter is out.  Topics include:
Eat Your Weedies! Native Edible Greens
Native Plant Highlight: Texas greeneyes (Berlandiera texana)
Gardening and Planting Tips
How to make the most of the Shaw Wildflower Market
Explore the Natural World at Home
Download the PDF (650 KB)
To sign up for the newsletter, e-mail Besa Schweitzer (besa.schweitzer@mobot.org) with "NPS subscribe" in the subject line.