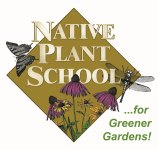 The December edition of the Native Plant School newsletter contains topics on:
Burning Bush Invasion
Gardening Tips
De-icing Can Harm Plants
Weevils Love Wild Indigo Seeds
Where Do Butterflies Spend the Winter?
Guess The Plant
Come for a Visit this Month
How to Provide Water for Birds When the Birdbath Freezes
Classes

Woodland Restoration for Larger Landowners
Converting Lawn to Seeded Prairie or Savanna

BeeSpotter
Bumble Bee Watch
Deer Resistant Landscaping with Native Plants, Oh Dear!
To sign up for the newsletter, e-mail Besa Schweitzer (besa.schweitzer@mobot.org).