By Betty Struckhoff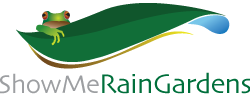 The St. Louis area has incredible resources for native landscapers. A new addition promises to help all of us enhance our landscapes, attract wildlife, support the ecosystem and improve the water quality in our streams.
ShowMeRainGardens contains tips and interactive tools to help you plan, design and install your rain garden. Want to know what kinds of natives will do well in shade?  Just put those criteria into the Plant Selector and up come photos and scientific names of plants from which to choose.
Need help with design and layout? Check out the templates of gardens or the photo galleries submitted by people who have installed rain gardens.
ShowMeRainGardens was created by the St. Louis Metropolitan Sewer District, local governments, conservation agencies and others. For more information, click on the frog!