Members were joined by three guests at our annual potluck dinner and seed exchange, held at the First Presbyterian Church of Kirkwood.
Copies of our chapter membership list and the 2013 meeting and event calendar were distributed.
Discussion Topic
Several members described successes and challenges of the year in their gardens, including effects of heat and drought.
Volunteer Awards
New this year a drawing took place from the year's volunteers for a $25 gift certificate. The drawing was won by Jeanne Cablish.  Cindy Brown won a second drawing for a Wild Ones mug.  Peg Whetzel won a set of nature note cards in a third drawing.
Jeanne Cablish was given a thank you gift for her third year of extensive work designing and implementing the Landscape Challenge yard makeover.
Meeting Minutes
Board of Directors Updates – Ed Schmidt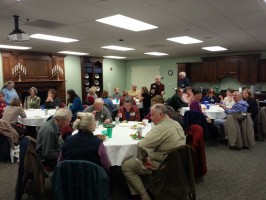 Our chapter board has decided via email to purchase a DVD based on the book "Urban and Suburban Meadows" by Catherine Zimmerman.  Members are welcome to show it to other groups such as Master Naturalists.
We will continue our co-sponsorship of Shaw Nature Reserve's Native Plant School.
Ed encouraged members to attend a board meeting, especially if they are considering joining the board or if they wish to present ideas to the board.
Service Project in Forest Park – Brian Hall
Seven Wild Ones members and three of our guests joined the 75 volunteers who participated in the Forest Park 14th annual honeysuckle removal day that was held November 3.  The group removed 1.5 acres of thick bush honeysuckle that crowded out the native species.  Removal of the invasive honeysuckle will allow more sunlight to reach the woodland floor, allowing for better germination and growth of wildflowers and native grass species, providing pollinator habitat and foraging habitat for birds and mammals.
Website – Brian Hall
Brian has been helping with the pending new national Wild Ones website.  It's looking good, and is a significant improvement over the current site.  They are using WordPress, which is what we use for our chapter website.  They are moving content from the old to the new website, and hope to launch it by the end of January.
Regarding our chapter website, Brian appealed for blog posts and for photos to be used as headers, and on pages and posts.
Confirmation of Officers and Committee Chairs – Ed Schmidt and Fran Glass
As required by national Wild Ones bylaws, chapters are to hold an election of officers or a confirmation vote each year. Ana Grace Schactman made motion to confirm the current officers for a second year.  Cindy Brown seconded.  Motion approved.
Membership – Betty Struckhoff
Betty reported that our membership remains around 90 and discussed benefits of membership.
Chapter Highlights of 2012 – Ed Schmidt read from his report to the Wild Ones national office
We have a newly designed website which includes a blog.  Twenty-five members have been trained on how to submit blog posts.
We have an attractive chapter brochure which includes a membership application.
Our main fundraiser for the year continues to be selling native plants at the native plant sale at Shaw Nature Reserve on Mother's Day weekend.  For the second year in a row, we purchased plants from a local grower who took back any unsold plants.
We gave out 400 native shrub seedlings purchased from the Missouri Department of Conservation at the Earth Day event in Forest Park. Visitors participated in a little "quiz" that we gave to help us draw people into our booth and painlessly educate them about the benefits of native landscaping.
Organizational Liaisons 
A local group which sponsors a large community garden, Citizens for the Advancement of Normandy (CAN), handled publicity and encouraged its members to apply. Wild Ones was responsible for processing the applications, the landscape design and organizing member volunteers to do the planting. Our chapter's only financial outlay for this event was for a Wild Ones sign.
Seven WO volunteers participated in a half-day honeysuckle removal project in Forest Park in November.  The park contains areas of remnant forest and restored savannah and prairie, as well as extensive water features.
Donations/Gifts/Scholarships Awarded
We awarded a grant of $600 to The Principia School for plants for a native plant garden.
We donated $1000 to the Native Plant School at Shaw Nature Reserve.
We gifted memberships in Wild Ones to two members of Citizens for the Advancement of Normandy for their efforts with the Landscape Challenge and to establish a stronger tie with their organization.
We are matching the national fund appeal at the 10 percent level up to a maximum commitment of $1200.
The chapter paid $250 for the president to attend the national annual meeting.
Volunteer Development
A member-at-large board member has kept a record of volunteer hours and has, in general, encouraged members to volunteer at events.
Members who work at our plant sale get a discount on plants.
New this year, we have begun a policy whereby any member who works two hours at a volunteering event (other than the plant sale) gets their name in a hat for a $25 gift certificate drawing at the end of the year.
Membership Recruitment
We continue to strive to get our name in front of the public and in front of those who are like-minded, but not members, through events and partnerships.
We tabled three additional events – the symposium at the Botanical Garden (where Doug Tallamy spoke), the Pollinator Dinner at St. Louis Zoo, and the Native Plant School fall gathering.
Other
In September, we had a booth at Prairie Day at Shaw Nature Reserve. Children who participated in an activity at our booth received a packet of native plant seeds.
Eight members participated in a plant rescue at a home previously owned by a member. The new owner invited one of our members to reconfigure the extent of the beds. Members were invited to rescue plants from the areas that were to be eliminated.
Next meeting
February 6, 2013  7pm at The Heights (the community center of Richmond Heights).
Topic: RainScape Your Yard, a presentation by Karla Wilson, Deer Creek Watershed Alliance coordinator.  Karla comes recommended by Cindy Gilberg.
For directions see www.stlwildones.org/calendar.
Recorded by:  Fran Glass, Secretary