­­­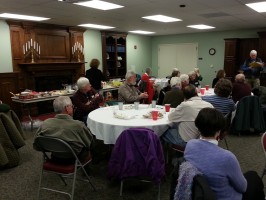 Our annual potluck dinner and seed exchange, held at the First Presbyterian Church of Kirkwood, was enjoyed by 36 members, including 6 from the new Southwest Illinois chapter, who were warmly welcomed.
Copies of our chapter membership list and the 2015 meeting and event calendar were distributed.
Confirmation of Chapter Officers, Board of Directors
As required by national Wild Ones bylaws, chapters are to hold an election of officers or a confirmation vote each year.
The current officers are: President Ed Schmidt, Vice President Marsha Gebhardt, Secretary Fran Glass, Treasurer Betty Struckhoff. They, along with three Members at Large, make up the chapter Board of Directors. Members at Large are: Amy Redfield, Brian Hall, Marilyn Chryst. As no nominations were made from the floor, Larry Hummel made motion to confirm the current officers for a second year. Kathy Bildner seconded. Motion approved.
2016 Nominating Committee
Amy Redfield said that a number of the current Board members have already announced that this will be their last year on the Board. We need other members to step up, and Amy invited members to join the committee to nominate Board members for the 2016-2017 term.
Volunteer Awards
A drawing took place from the year's volunteers for prizes ranging from wrist bands to two-$25 gift certificates. One of the gift certificates was won by Carol and Wes Boshart, the other by Linda and Bill Bennett.
Discussion Topic
Several members described successes of the year in their gardens.
Betty Struckhoff has noticed more birds since she planted new shrubs this spring.
Marilyn Chryst is fortunate to have a neighbor who wants to remove bush honeysuckle from his property that adjoins hers.
Larry Hummel reported that amphibians reproduce in his fishless pond, and raptors are plentiful at his rural property.
Several members were grateful for the native plants they rescued from Bill and Linda Bennett's former Kirkwood property.
Ana Grace Schactmann suggested we educate city inspectors by inviting them to Wild Ones meetings within their cities.
Ann Early and Bob Siemer presented their monarch PowerPoint discussion to several audiences for an estimated total of 200-250 people in 2014.
Seed Germination Indoors or Outdoors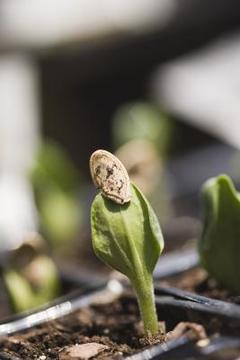 Kathy Bildner and Penny Holtzmann each gave a short presentation on how they start native seeds.
Kathy described her method of outdoor seed stratification as follows:
Plant seeds in late fall or early winter.
The seeds must over winter in the ground.
Cover with screen or rocks so the squirrels won't dig them up.
Label the site so you remember what and where you planted.
If you plant the seeds in a pattern, when they emerge in spring you will know what they are. Weed everything else away.
Most native plants are perennial and will not bloom until they are two years old.
They will come back year after year for you to enjoy.
For more detailed information, Kathy recommended the Missouri Botanical Garden's propagation tips.
Penny Holtzmann described her indoor method of seed germination. She first stratifies her seeds in the refrigerator, and then plants stratified seed mix in seedling trays on top of a heating pad and under grow lights.
She also told us of a Perennial Germination Database website.
Betty Struckhoff shared that she stratifies seeds in coffee grounds in the refrigerator.
Service Project in Forest Park
Marsha Gebhardt and Kate Lovelady were among 60 volunteers who participated in the Forest Park annual honeysuckle removal day on November 8. The group removed 4.4 acres of bush honeysuckle that crowded out the native species in a portion of John F. Kennedy Memorial Forest. Photos including before and after shots and a short video can be seen on the Forest Park Forever website.
Chapter Highlights of 2014
Ed Schmidt, Betty Struckhoff, Amy Redfield and Marsha Gebhardt reviewed our meetings and accomplishments of 2014:
January

At the board meeting, we approved a budget and discussed the membership survey results. We granted money for a landscape designer for two Dogtown native plant gardens.

March

Ann Early and Bob Siemer gave a monarch presentation to a standing-room-only crowd.
The third annual Partners for Native Landscaping Workshop with keynote speaker Doug Tallamy was a sold out event.
Three school grants were approved at the March board meeting.

April

Our yard tour was held at the home of Marsha Gebhardt. Designers Simon and Monica Barker talked about the project.  Also, MDC seedlings were distributed to members who had placed orders.
Edgar Denison Day was held in Kirkwood. Alan Hopefl coordinated our Wild Ones' booth.
We staffed an information table and distributed 600 black chokeberry seedlings at Earth Day in Forest Park.

May

The yard tour was at the home of Susan and Andy Leahy.
The plant sale at the Spring Wildflower Market at Shaw Nature Reserve was a huge success.

June

Yard tour at Dave Tylka's home was attended by a large crowd.
Linda Bennett and Fran Glass staffed an information table at the Pollinator Dinner at St. Louis Zoo.
Ed Schmidt and Brian Hall attended a couple of meetings to help launch the Southwest Illinois chapter.

July

The yard tour was held twice at home of Fran Glass.
In memory of Cindy Gilberg, we donated a bluebird house located in Shaw Nature Reserve's Whitmere Wildflower Garden.

August

Marsha Gebhardt and Marilyn Chryst attended the Wild Ones Annual Conference and 35th Anniversary Celebration in Wisconsin.
Our chapter meeting and garden tour took place at Chesterfield City Hall.

September

Our meeting was a tour at Lockwood Park led by Scott Woodbury and Webster Groves Parks Manager Shawnell Faber.
Kathy Bildner and Fran Glass staffed an information table at the Fall Wildflower Market at SNR. Kathy's monarch caterpillars attracted many interested participants.
We planted the Landscape Challenge winner's yard in Kirkwood.

October

Southwest Illinois chapter members joined us for our October yard tour at the home of Scott Barnes.
Forest Park's annual honeysuckle removal was attended by Marsha Gebhardt and Kate Lovelady.

November

Tonight we are celebrating our annual potluck dinner and seed exchange.
Next meeting
February 4, 2015, 7pm at The Heights community center of Richmond Heights.
Susan McCrary, Principal Engineer Metropolitan St. Louis Sewer District, presents MSD's Project Clear, a stormwater management project that involves the creation of raingardens and related features.
For directions see our online calendar.
Recorded by:  Fran Glass, Secretary