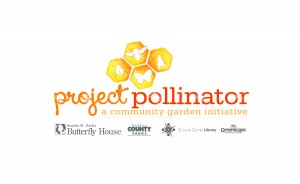 The new campaign announcement for Project Pollinator is not a typical tabling event, but the Wild Ones banner will be displayed, and we will have information available to spread the word about our organization's mission.
Members of our St. Louis Wild Ones chapter, Bob Siemer, Ann Earley, and Betty Struckhoff participate on the Advisory Council for this project.
About this initiative from the website, "The Butterfly House is joining with St. Louis County Parks and Libraries to be a part of the national movement to protect pollinators and their habitats through a newly-launched initiative, Project Pollinator.
"The mission of Project Pollinator is to promote an appreciation of all pollinators through education and creation of pollinator gardens. Our goal is to educate the public about the importance of pollinators, beyond the familiar bees and butterflies, and to provide demonstration gardens at county parks, libraries, and other public venues.
"A challenge will be issued to  St. Louis County municipalities to plant pollinator gardens in their public spaces. St. Louis County residents can join in the effort by planting pollinator gardens of their own. Together, we can work to restore habitats and improve the health of native pollinators.
"This event will have:
Plant giveaways – receive a free plant to start your pollinator garden (while supplies last)
Information booths on the project, local pollinators, and native plants
Information on education programs for children and adult groups
Learn how the MOBOT horticulture staff can help assess your garden site"
Event: Proclamation reading where St. Louis County Executive Steve Stenger will kickoff Project Pollinator
Where: Butterfly House in Faust Park
When: Tuesday, March 15, 2016, 10:00 a.m.
Registration: Not required – free and open to the public
More background information and ways to make a difference are available on Missouri Botanical Garden's website.