By Kathryn Jepsen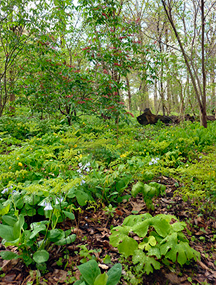 A free, informative field day for land managers, land owners and other resource professionals interested in woodland restoration.
See first-hand what Missouri Master Naturalists, St. Charles County Parks and Recreation, and their partners are doing to restore the county's woodland and prairie communities. Learn about the resources available to bring similar projects to your own region, including those from project partner Missouri Department of Conservation.
In this free field day, you'll see the results of an earlier project on once-degraded woodlands. And you'll witness the ongoing work that's taking place to restore 62 acres of woodland and 11 acres of prairie by Missouri Master Naturalist volunteers and the staff of St. Charles County Parks and Recreation, along with partner organizations University Extension Education Foundation, Forest and Woodland Association of Missouri, and Missouri Department of Conservation.
Many of Missouri's native flora and fauna depend on healthy, native forests to survive. This can be challenging in an urban-rural interface like Matson Hill, where woodlands are impacted by development, fragmentation and invasive plants. This restoration, funded in part by MDC's Community Stewardship Grant, shows it's possible to organize partners, volunteers and other resources and make an overgrown site healthy, native and sustainable.
Attendees will be guided to several woodland sites in various stages of restoration, where they'll hear from those directly involved in the restoration and management of the site, and join discussions on invasive plant management, cedar and maple control, prescribed burning, harvesting logs for park projects and vernal pools. You will also learn more about the Community Stewardship Grant, a very important resource from the Missouri Department of Conservation.
When: Friday, June 20, 10am – 2pm
Where: Matson Hill Park, St. Charles County
Cost: Free, but registration is required. Lunch is included.
For more information or to register: contact Jim Summers of the Forest and Woodland Association of Missouri via e-mail or phone: (818) 645-5399.