By Mitch Leachman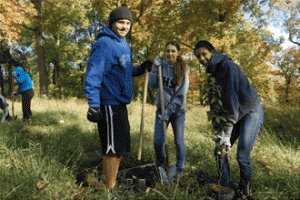 We had another fantastic year made possible by thousands of hours of service given by hundreds of volunteers just like you! We're better off because of your service and hope to see you again this fall for one of these projects!
Saturday, October 17th at Creve Coeur Park – Honeysuckle kill
We continue working with our partners on the Mallard Lake Prairie Project by removing additional bush honeysuckle from around the lake, in advance of future plantings of Missouri native shrubs and trees. All necessary tools/equipment and lunch provided.
Saturday, October 17th at McKelvey Woods Park – Restoration day
All ages welcome. We continue our partnership with the City of Maryland Heights! We may be clearing for a new trail, planting or removing honeysuckle. All necessary tools provided.
Saturday, October 24th at Creve Coeur Park – Tree planting
Bring a shovel if you have one, but we should have plenty of tools on-hand.
Get more details on these projects. Volunteers are requested to register for all projects by providing their name, contact information and number attending to mitch@stlouisaudubon.org or (314) 599-7390.