According to a recent press release from Mayor Francis Slay's office, the City of St. Louis, as part of a national campaign to save the threatened monarch butterfly, is spearheading an initiative to help grow the monarch population.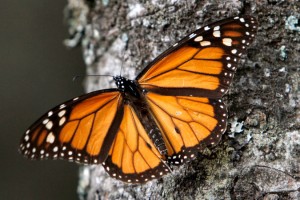 How? Plant milkweed. Monarch butterflies only lay their eggs on milkweed, and the caterpillars only eat milkweed. When these host plants are scarce, so are butterflies.
On Earth Day, April 22, the mayor was joined by Jim Miller of Missouri Botanical Garden, Ed Spevak of the Saint Louis Zoo, and Tracy Boaz of the Missouri Department of Conservation, for a ceremonial first planting at the Brightside St. Louis Demonstration Garden, 4646 Shenandoah Ave., the site of a Wild Ones meeting last year.
The effort is described as part of the City's Sustainability Plan, a 260-page library of ideas developed through public engagement to increase economic, social and environmental opportunities, and calls for increasing environmental literacy (pp. 212 – 214). The overall goal of the Plan is to make the City "cleaner, safer and healthier with less waste of energy and natural resources. It is designed to make the urban core even more connected, diverse, vibrant, livable and appealing."
You can help by planting milkweeds in your garden. Among the milkweeds suggested are three Wild Ones strongly recommends: Butterfly Weed (Asclepias tuberosa), Swamp/Marsh Milkweed (A. incarnata), and Common Milkweed (A. syriaca). Please remember to include these on your shopping list for the Shaw Wildflower Market on May 9-10.