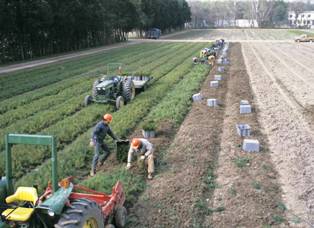 The George O. White State Forest Nursery near Licking, Missouri is having an open house on April 6. The nursery is a great source of inexpensive tree and shrub seedlings.  Wild Ones gives away their seedlings for Earth Day each year.
The open house is from 9 a.m. to 2 p.m. Take a tour of the 100-acre nursery operation, where everything from pecans to pawpaws and witch hazel to walnuts are grown. See the lifting equipment used to harvest seedlings, and check out the grading and shipping rooms where orders are filled. Top off your tour with a complimentary lunch as guests of the nursery staff."
Lots of people have bought seedlings from us for decades without ever knowing where their trees and shrubs come from," says Nursery Supervisor George Clark. "We think it would be nice if folks could put a place and faces with the name."
The nursery is located 3 miles north of Licking, at 14027 Shafer Road, on the west side of Highway 63. Call 573-674-3229 for more information.