by Betty Struckhoff
On August 7, Wild Ones members were treated to a wonderful front yard native garden in Chesterfield.  It was fun to see our makeover in 2011 and how it has developed over two years (and how two active children have grown along with it).  Part of the garden is in full sun and part in shade so we saw two very different designs.
Like many native gardeners, my yard is wilder than any neighbors' and perhaps a bit wilder than I want.  Over the past few years I've begun using two ways to bring the wildness under control:
Adding more understory trees and small shrubs, and using multiples in doing so.  These form a nice back drop and set off herbaceous perennial plants.  They are also bird friendly and low maintenance!
Creating areas of just 2 to 5 different plants.  This lends a less "busy" feeling and draws attention to the features of each plant.
Here are some examples of these principles, in my yard and elsewhere (click any image for a larger version):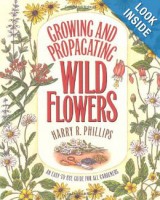 One of my favorite resources for designing with natives is Growing and Propagating Wild Flowers by Harry R. Phillips. Although published in North Carolina, most of the plants mentioned are native to our area as well. In addition to detailed information on propagation, the author offers plant lists for continual bloom through the seasons in sun, part sun or shade. For each plant featured, there are suggestions for good companion plants that like the same conditions.
I hope readers will share ideas on creating a pleasing landscape with native plants.  While the birds and butterflies don't seem to care about our human aesthetic sense, our human neighbors do.  If we can make people go "Ah…", we might end up with more plants in the neighborhood that are pleasing to our avian friends.