Blog and photos by Besa Schweitzer
Webmaster, Wild Ones – St. Louis Chapter
Plant name:
Seedbox (Ludwigia alternifolia)
Description:
Seedbox is a raingarden plant that provides good texture when planted with red and blue Lobelias and sedges.
This plant has excellent fall color and winter interest.
It grows about 2-feet tall and 3-feet wide.
It will self-seed but does not crowd out other plants in my experience.
Why I chose this plant:
I plant seedbox because of the seed head. It is a tiny box with a small hole for the dust-like seeds to sprinkle out of. The seed heads will persist through the winter and look very cute with their snow caps. Also, it provides structure for a raingarden to keep the soil covered. The red fall color is amazing.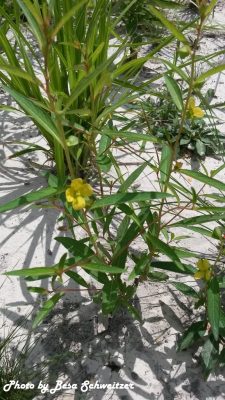 Visitors:
I see many tiny bees visiting the yellow flowers in June and July. The humming birds will use it as a perch when they are visiting the cardinal flower.
Environment:
Seedbox grows best in raingardens and swales. It likes to have moist soil but not standing water. Plant it in full sun for best fall color.
Where to view this plant:
You can see seedbox at Shaw Nature Reserve in the raingarden demonstration.
Reference:
Missouri Botanical Garden
Where to purchase:
Seedbox is for sale at most native plant retailers.
{Editor's Note: For information on raingardens including templates and native plant choices in the plant selector, visit ShowMe Rain Gardens.]