Blog and photos by Kathy Bildner
Member, Wild Ones – St. Louis Chapter
Plant name: Wild geranium (Geranium maculatum)
Description: This plant is a perennial spring woodland flower.
Wild geranium blooms mid-April to mid-May. It's flowers have five pink petals rounded or slightly notched on the top. The fine veins in the flower point to where the pollinators need to go. There can be two to nine flowers in loose clusters.
The green leaves are wider than long, deeply lobed five to seven times with hairy stems one-foot tall. The flower stems stick up above the leaves.
Wild geranium grows in colonies by extending out its rhizomes. Also, it will grow by seed. It goes from flower to seed in just a few weeks.
The sharply pointed seeds are what gives it the name Crane's bill.
The seed is attached to the end of a thin curved stem. When it is ripe, it launches off into the air away from the parent plant.
Why I chose this plant: I saw it blooming along a creek when I went for a walk in the country. It blooms much better in my yard where it gets a little more sun than it did in the woods where I was walking.
Visitors: It provides both pollen and nectar to bees and flies as they feed and pollinate the flower.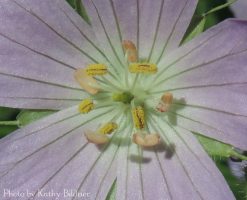 Environment: In your yard, it needs only partial sun. In nature, it grows in bottomland forest in medium to dry soil.
Where to see this plant: Wild geranium is blooming now along the St. Louis County park's Al Foster trail in Glenco MO.
References: Have none that is a favorite. I use Missouri Wildflowers by Edgar Denison, Ozark Wildflowers by Don Kurz, and Steyermark's Flora of Missouri.
Where to purchase:
Missouri Wildflowers Nursery
Prairie Hill Farm Nursery
St. Francois Plant Nursery
Caution: There are many cultivars.