By Dawn Weber
Board Member-at-Large, Wild Ones – St. Louis Chapter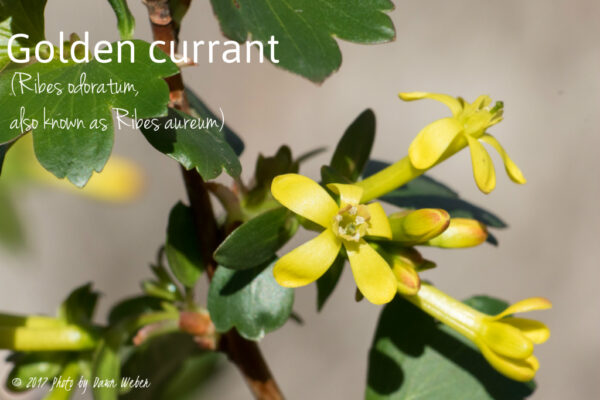 Plant name: Golden currant (Ribes odoratum, also known as Ribes aureum)
Description: Height: 4-6 ft, width: 6-10 ft
This plant is an open shrub with small, beautiful yellow trumpet-shaped blooms in spring. It smells like cloves when blooming, giving it an alternate common name of Clove currant. Fall foliage is a beautiful dark red. Can produce suckers.
Why I chose this plant: I love yellow, it is the host for at least 92 species of lepidoptra (butterflies and moths), and is a Missouri Botanical Garden (MoBot) Plant of Merit.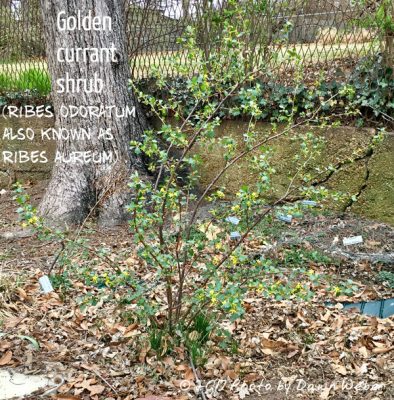 Visitors: This plant blooms very early in spring and I have yet to catch a visitor this year. The flowers offer nectar and pollen to visitors, which could include hummingbirds, bumblebees, and other long-tongued bees. The summer fruit is attractive to birds, including the American robin, brown thrasher, catbird, and cedar waxwing,
Environment: Golden currant is happiest in full sun to part shade and dry to average soil. It will tolerate clay soil. Fewer flowers and fruits may result from too much shade.
Favorite references: Illinois Wildflowers website and MoBot plant profile.
Available to purchase: Missouri Wildflower Nursery