By Marsha Gebhardt
President, Wild Ones – St. Louis Chapter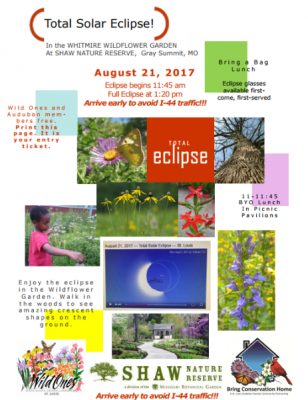 As excitement builds around the total eclipse on August 21, people are making plans for where to view it with their family and friends. The lucky members of St. Louis Wild Ones and St. Louis Audubon are offered an outstanding viewing experience at the Whitmire Wildflower Garden at Shaw Nature Reserve (SNR).
Reasons to choose this viewing site:
Location: SNR is located very close to the center of the viewing path, with almost the longest period of total eclipse.
Setting: The Whitmire Wildflower Garden setting is beautiful and full of the native plants that we are so interested in. Only cars with Wild Ones and/or Audubon members, displaying the printed flier, will be allowed to park in the Bascom House/Wildflower Garden parking area. All others will be directed to the "plant sale parking lot" near Robertsville Road. Dowload the flier – Eclipse Aug 21, 2017_flier to print it.
People can, and should, come early to walk around the gardens, as well as the woodland and prairie areas. Missouri Department of Transportation (MODOT) is expecting excessive traffic on I-44. There is a prediction of a million people coming to the area between SNR and St. Clair. It is not unreasonable to consider getting to SNR not long after the gates open at 7:00 a.m. as the eclipse begins at 11:45 a.m. Carpooling is strongly encouraged!
Accommodations: The two picnic pavilions behind the Bascom House will be available for picnicking; accommodating about 160 people at a time. Others can picnic elsewhere in the gardens and grassy areas. Restrooms are available in the Bascom House.
Price: Cars containing at least one Wild Ones and/or Audubon member will get free entry. (MOBOT members also get in free, but the general public will pay $10 per vehicle.)
Free glasses: We hope to have enough glasses to give everyone a pair.