By Sue Leahy
Board Member-at-Large, Wild Ones – St. Louis Chapter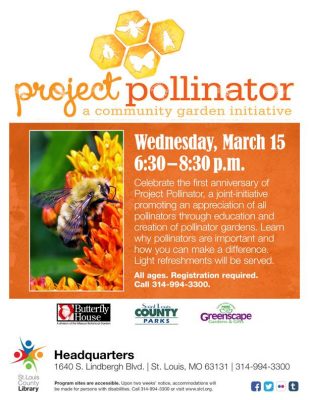 Project Pollinator is a cooperative effort of St. Louis County Parks, St. Louis County Libraries, The Butterfly House, and Greenscape Gardens to protect pollinators and their habitats. Wild Ones-St. Louis Chapter is proud to be a sponsor of this program in 2017.
The mission of Project Pollinator is to promote an appreciation of all pollinators through education and creation of pollinator gardens. The goal is to educate the public about the importance of pollinators and to provide demonstration gardens at county parks, libraries, and other public venues.
Project Pollinator will host a one-year anniversary celebration:
When: Wednesday, March 15, from 6:00 – 8:30 p.m.
Where: St. Louis County Library Headquarters
Click on this link for map: 1640 S. Lindbergh Boulevard, St. Louis, MO  63131, across from Frontenac Plaza.
Program:
6:00 p.m. – Although the flier says 6:30 p.m., I was informed that tables will be open for visiting. I will have our Wild Ones – St. Louis Chapter table open at 6:00 p.m.
7:00 p.m. – Chris Hartley of The Butterfly House will speak followed by award presentations and a video.
Registration: You are invited to attend, but registration is required. Please call 314-994-3300. The library is providing refreshments.
Marsha Gebhardt, President of Wild Ones-St. Louis, will be receiving an award on behalf of Wild Ones for our support of the pollinator gardens installed at Creve Coeur Lake Memorial Park this past summer.
We are listed as a sponsor on the back of the new Project Pollinator brochure. It will be distributed in the April issue of the Gateway Gardener. Watch for it and help us support the pollinators!