Blog by Linda Bennett
[In the Arcadia Valley, Linda and Bill Bennett have become local leaders in native landscape education and advocacy.]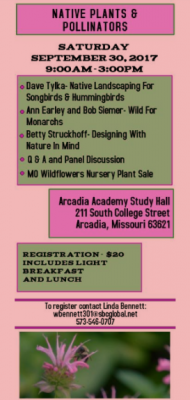 Wild Ones members will be featured speakers in Arcadia's second native plant workshop entitled, Native Plants & Pollinators, on Saturday, September 30, 2017 from 9:00 a.m. – 3:00 p.m.
Dave Tylka will begin the day with Native Landscaping for Songbirds and Hummingbirds.
Ann Earley and Bob Siemer will follow with Wild for Monarchs.
Betty Struckhoff will speak on Designing with Nature in Mind.
We will end the day with a Q&A and panel discussion with Dr. Chad Follis, horticulture professor from Mineral Area College and some speakers from the day.
As an added bonus, Missouri Wildflowers Nursery will be selling plants throughout the day. Also, there will be information available from various nature-related organizations for attendees to peruse during breaks.