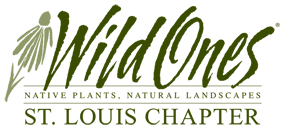 Wild Ones: Native Plants, Natural Landscapes encourages landscaping with native plants in residential, business and public landscapes.
Why you should care about native plants?  As more land is developed for housing and businesses, the environment has become increasingly fragmented.  Butterflies, birds, and other wildlife have a harder time finding the plants they depend on for food, shelter, and raising their young.  Gardens with native plants can help to fill this need.
Native plants, including trees, shrubs, wildflowers and grasses, are better adapted to local conditions, and require less maintenance.  Imagine a yard that requires little or no fertilizer, water and pesticides!
And native plants connect us to history.  These plants have been growing in the St. Louis area for hundreds of years.  Your yard could have some of the same plants that were here when the first pioneers explored the West.
Join Us
Want more information or wondering how to get started? Visitors are welcome to attend any of our monthly meetings. Members also receive the following benefits:
A quarterly national newsletter.
Discount on plants purchased from our booth at the annual Native Plant Sale when they volunteer.
Access to great educational resources about native plants.
The satisfaction of supporting our efforts to promote the use of native plants.
St. Louis members also get a discount on a yard evaluation with the St. Louis Audubon Society's Bring Conservation Home program.
Once you're ready to join, please visit the national Wild Ones website.