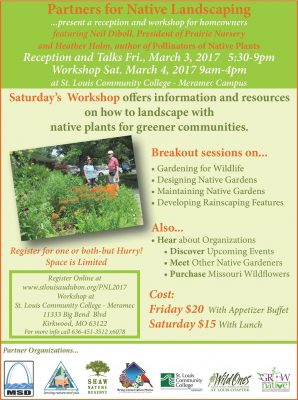 Mark your calendar for this year's Partners for Native Landscaping gala reception on Friday, March 3 and workshop on Saturday, March 4, 2017. Keynote speakers Heather Holm, author of Pollinators of Native Plants and Neil Diboll, President of Prairie Nursery will give talks on Friday.
Saturday's workshop provides opportunities to learn about gardening for wildlife, designing native gardens, and developing rainscaping features. Native plants will be available to purchase. See the flier for more information.
Advance registration and payment are required for both events. Walk-ins will not be accepted. Early registration is encouraged.
Location:
St. Louis Community College-Meramec
11333 Big Bend Blvd
Kirkwood, MO 63122
Cost and times:
Friday, March 3, 2017
5:30 – 9:00 p.m.
$20 with appetizer buffet
Saturday, March 4, 2017
9:00 a.m. – 4:00 p.m.
$15.00 with lunch
How to register:
To register for one or both events, visit the St. Louis Audubon Society website and click on "Register Now". We hope to see you there!
For more information, call 636-451-3512 x6078.
Watch for an upcoming blog post reviewing Heather Holms book, Pollinators of Native Plants.
Wild Ones – St. Louis Chapter is a sponsoring partner along with the Metropolitan St. Louis Sewer District, Missouri Department of Conservation, Shaw Nature Reserve, Bring Conservation Home, St. Louis Community College, and Grow Native!.