By Mitch Leachman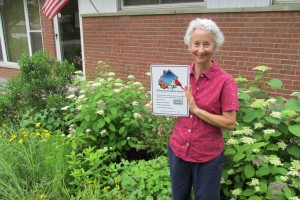 The St. Louis Audubon Society's Bring Conservation Home program was created in 2012. It gives individual landowners in the St. Louis region specific advice on how to create bird- and pollinator-friendly habitat in their own yards. A number of the program's volunteer Habitat Advisors are Wild Ones members, and the St. Louis Chapter has been a partner organization since the program kickoff.
Bring Conservation Home has been wildly successful, with nearly 350 landscapes surveyed representing over 200 acres of potential new habitat. 80 owners have been recognized for their conservation practices with one of three certification levels. Fran entered an elite group earlier this month by achieving Platinum certification, the highest level. Her company includes Wild Ones' own Bill Hoss, and native plant enthusiast, author and educator Dave Tylka.
Two key certification requirements include a complete absence of non-native invasive plants and at least 50% of the available yard in native habitat. The biodiversity requirements are quite modest, but Fran excels in that category with nearly 200 species across a very modest suburban landscape of less than a quarter acre. We were really impressed on our first visit with her native vine-enshrouded pergola. Imagine our excitement in learning she now has 10 different species of native vines!
Congrats Fran!
Editor's note: Fran is hosting two Wild Ones meetings next month: Wednesday evening, July 2, and Saturday morning, July 12 (click the links for details). Both meetings are open to the public.
Mitch Leachman is the Executive Director of the St. Louis Audubon Society, and co-founder of the Bring Conservation Home program.