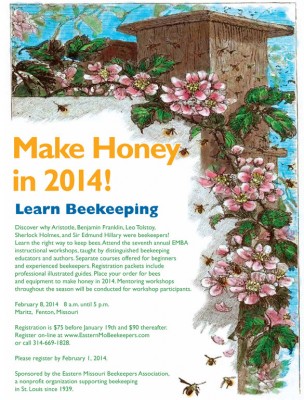 Discover why Aristotle, Benjamin Franklin, Leo Tolstoy, Sherlock Holmes, and Sir Edmund Hillary were beekeepers! Learn the right way to keep bees. Attend the seventh annual EMBA instructional workshops, taught by distinguished beekeeping educators and authors. Separate courses offered for beginners and experienced beekeepers. Registration packets include professional illustrated guides. Place your order for bees and equipment to make honey in 2014. Mentoring workshops throughout the season will be conducted for workshop participants.
February 8, 2014 8 a.m. until 5 p.m.
Maritz, Fenton, Missouri
Registration is $75 before January 19th and $90 thereafter.
Register on-line at www.easternmobeekeepers.com or call 314-669-1828.
Please register by February 1, 2014.
Sponsored by the Eastern Missouri Beekeepers Association, a nonprofit organization supporting beekeeping in St. Louis since 1939.