PROGRAM
Sue and Andy Leahy's suburban native yard, which includes two water features, has attracted abundant wildlife. On May 7, it also attracted 53 Wild Ones members and guests.
The Leahy's landscaping adventure started five years ago with a butterfly garden that immediately attracted butterflies. Sue quickly learned that the native plants outperformed non-natives. She took Dave Tylka's Native Landscaping for Wildlife and People class at St. Louis Community College at Meramec to learn much more. Now she helps other residents as a Habitat Advisor for Bring Conservation Home. This Audubon Society habitat assistance and certification program includes advice on site-specific native plants, water conservation and other stewardship practices that promote healthy habitat for birds, native wildlife and people.
Sue and Andy applied for and received a grant from the RainScape Rebates Program, provided by the Deer Creek Watershed Alliance, a project of the Missouri Botanical Garden. All of the downspouts from their house empty into rain barrels or directly into their gardens, including a series of three rain gardens.
Andy has given Sue the title "Management," and calls himself "Labor." He beams with delight when, referring to their yard projects, he says "she lets me play." Regardless of their titles, the results are truly amazing.
See more photos of the Leahys' yard.
ANNOUNCEMENTS
Spring Wildflower Market at Shaw Nature Reserve – May 9 and 10
Marilyn Chryst circulated a sign-up sheet for volunteers to help set-up, staff, and take down our native plant sale booth at the Spring Wildflower Market. We also need sawhorses for our booth.
Earth Day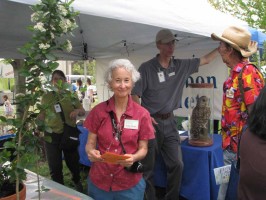 Wild Ones and St. Louis Audubon hosted a joint booth at the 2014 St. Louis Earth Day Festival in Forest Park on April 27. On the day before the festival, Bill Brighoff again hosted an enjoyable and extremely efficient seedling wrapping party. Under Bill's guidance, six hardy volunteers wrapped 600 black chokeberry seedlings that we had purchased from the Missouri Department of Conservation.
At the festival, the seedlings were given to enthusiastic visitors to our booth. Mitch Leachman and Habitat Advisors from St. Louis Audubon's Bring Conservation Home (BCH) program joined Wild Ones volunteers to spread our message. We helped visitors learn about the many benefits of landscaping with native plants and about BCH's habitat assistance and certification program.
Read more about this year's Earth Day festival, or see more photos of our booth.
Membership
Membership Chair Amy Redfield welcomed new members and guests. She plans to form new committees on Membership and Tabling (to staff informational booths at events like Earth Day). Members interested in starting or joining either committee are asked to contact Amy.
Webmaster Assistance
Brian Hall is currently performing two roles on the website and is looking for other members to assist him. As webmaster, he maintains the technical side of the site by managing the hosting, doing backups, installing updates, etc. As editor, he writes, solicits, and edits blog posts, web pages and image galleries. Members interested in taking over the editor role or learning WordPress to assist with the technical side of the website are asked to contact Brian.
Dogtown Native Demonstration Garden
Members of Dogtown's Eco-Village planted and mulched a Native Demonstration Garden in a median on Wise Avenue near Tamm in Dogtown. Wild Ones granted funds for Jeanne Cablish to prepare the garden design, and Wild Ones members donated extra native plants from their yards. Richmond Heights Garden Club paid for the remaining plants. Eco-Village members, who promote sustainable living, will maintain the garden. Jeanne also designed a garden to be planted next year at the veteran's memorial at Tamm and Clayton Avenues.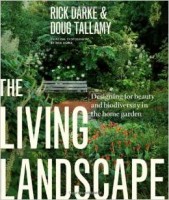 New book by Doug Tallamy
Doug Tallamy, author of "Bringing Nature Home: How You Can Sustain Wildlife with Native Plants" will soon publish a new book that he co-authored with Rick Darke. The book is "The Living Landscape: Designing for Beauty and Biodiversity in the Home Garden."
NEXT MEETING: June 4, 2014, 6:30 p.m.
Yard tour at the home of Dave Tylka, Imperial, MO.
For directions, see our online calendar.
Recorded by: Fran Glass, Secretary