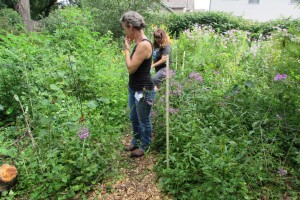 PROGRAM
Bill Hoss hosted a yard tour for this month's gathering. Eleven guests and 27 members attended.
Bill's yard is Platinum Certified by St. Louis Audubon's Bring Conservation Home program. His yard, along with six other Wild Ones members' yards, was on the 2015 Native Plant Landscape yard tour on June 20.
ANNOUNCEMENTS
Nominating Committee
In odd-numbered years, a nominating committee is formed to develop a slate of officers for our chapter. The committee presents the slate at the October meeting. Members vote for officers at the November meeting.
Fran Glass, chair of this year's nominating committee, asked that members contact her if they are interested in joining the committee, running for the chapter Board of Directors or recommending someone for the Board.
---
Adopt a Grant-Recipient Garden
Over the last eight years, our chapter has given grants to 23 schools and community gardens. We would like to know how these gardens are doing. Kathy Bildner, Chapter Grant Liaison, invites members to choose a garden, "wander over and have a look, and take a photo." Then please report back to us. To date, 15 of the 23 locations are covered. The remaining eight to be adopted are:
McKinley Meadows Community Garden, 2021 Ann Avenue, St. Louis, MO 63104
Early in 2015, we awarded $300 to develop a native plant garden as the catalyst for place-based workshops in papermaking, book arts, and creative writing, which will be held at the neighborhood's edible urban forest, McKinley Meadows.
Chesterfield Elementary School, 17700 Wildhorse Creek Road, Chesterfield, MO 63005
In 2015, $200 was awarded to help the 5th grade students create a sensory garden near their natural play zone using native plants.
The Audubon Center at Riverlands
In 2014, $300 was awarded to build native plant gardens at three schools. The gardens will be part of an afterschool program to educate 3rd-5th graders about various conservation efforts including the benefits of planting native plant gardens, creating bird friendly communities, and alternate energy sources.
Blackhurst School, 2000 Elm Street, St. Charles, MO 63301
Lincoln School, 625 S. Sixth Street, St Charles, MO 63301
Oak Hill School, 801 S. Spoede Road, St. Louis, MO 63131
Immanuel Lutheran School, 115 S. Sixth St., St. Charles MO 63301
In 2013, $370 was awarded for native plants in an early childhood natural playscape.
Hazelwood West Middle School, 12834 Missouri Bottom Rd., Hazelwood, MO 63042
In May, 2008 fifteen volunteers planted 1000 native plants at the Hazelwood West Middle School rain garden. The plants were donated by Shaw Nature Reserve. Students scattered native seeds on another day.
All Saints School, 7 McMenamy Rd., St. Peters, MO 63376
In 2007, $150 was awarded for creation of a native plant outdoor classroom garden.
See the entire list of gardens.
---
St. Louis Native Plant Garden Tour – June 20
Our chapter partnered with St. Louis Audubon's Bring Conservation Home program to sponsor a self-guided tour featuring ten residential native plant gardens. All the yards are in central St. Louis County and are certified by the Bring Conservation Home program. Just over 200 tickets were sold, and survey results were overwhelmingly positive.
2015 Landscape Challenge Planting, September 12
We co-sponsor a yearly Landscape Challenge with Shaw Nature Reserve and the Missouri Prairie Foundation's Grow Native! program. This year's winning yard is in University City.
Volunteers are needed to help plant the yard on Saturday morning, September 12.
Landscape Designer, Jeanne Cablish, will again design the front yard makeover.
Celebrating 10 Years of Greener Gardens – October 17
Shaw Nature Reserve's Native Plant School will celebrate its 10th anniversary on October 17. Our chapter will host an activity table.
Read more about the event.
Next Monthly Gathering
Wednesday, August 5, 6:30 p.m. OR Saturday, August 8, 9:00 a.m. Choose either the Wednesday or Saturday time.
Yard tour at the home of Judy and Randy Speck. Judy will talk about various aspects of this recently-converted yard. This yard has received certification by Bring Conservation Home.
Please bring a lawn chair.
For directions, see our online calendar.
Recorded by:  Fran Glass, Secretary