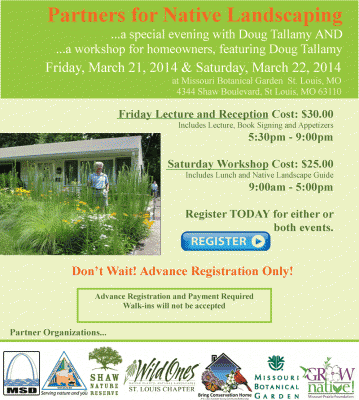 This year's Partners for Native Landscaping workshop has been expanded, and features Doug Tallamy, author of "Bringing Nature Home."
On Friday evening, March 21, Doug Tallamy will give a talk designed for continuing native gardeners on the topic "Your Role in Building Biological Corridors: Networks for Life."  A reception with light snacks and cash bar will follow Doug's talk.  Tallamy's, Bringing Nature Home, will be available for purchase and signing by the author. The cost for Friday's event is $30. View the flyer.
Saturday features an all day, in-depth workshop for homeowners.  Doug Tallamy and other speakers will provide information and resources on how to landscape with native plants to create healthier communities. Lunch is included, and attendees will receive a free native landscape guide ($5 value).  Native plants will be available for purchase. The cost for Saturday is $25. View the flyer.
Advance registration and payment are required for both events this year. Walk-ins will not be accepted. Registration deadline is March 12, but earlier registration is encouraged as space is limited.
To register for one or both events, visit the St. Louis Audubon Society website.