By Susan Lanigan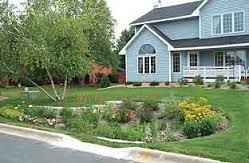 You've probably heard about the importance of keeping rainwater on your property to reduce stormwater runoff and minimize your dependence on irrigation, but how do you actually do that? EarthDance Farm is offering three opportunities to learn rainwater harvesting techniques from Jeff Adams, founder of Terrasophia.
Wednesday, August 27th, 6:00-8:00 pm. "Introduction to Rain Water Harvesting" talk at the EarthWays Center of the Missouri Botanical Garden. Free, but registration is required.
Thursday, August 28th, 9:00 am – 4:00 pm. "Designing Rainwater Harvesting Landscapes" workshop at EarthDance Farm. Cost: $45; register online.
Saturday, August 30th, 9:30 am – 4:00 pm. "Practical Rain Gardens – Hands-on Demonstration Project" at EarthDance Farm. Cost: $35; register online.
You can also register for both workshops at a discount. Read more details.