By Nan & Neil Adams 
Heartland Prairie tours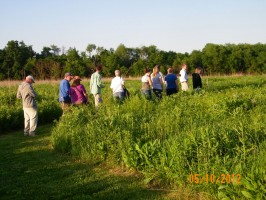 The Nature Institute is offering tours at Heartland Prairie, near Alton (Google map) on the 2nd and 4th Tuesdays in April, May and June (April 16 & 30, May 14 & 28, June 11 & 25).
The tours are from 5:30-6:30 pm and will focus on spring flowers and spring migrants. Bring a plant book and/or binoculars if possible.  Wear comfortable shoes and bring water.
At 5:00 before the tours, there will be a short, hands-on class explaining how to start and maintain a prairie. The class will focus on identifying native plants and eliminating invasives. Bring questions, protective gloves and clippers if possible.
For more information, visit The Nature Institute website.
Prairie Fest
Saturday, May 4 from 10am-2pm.  Family-friendly event with exhibits and demonstrations.  Free and open to the public.  Get more information.
Other Nature Institute events
Here are some other Nature Institute events that members might find interesting.  These events are at TNI, 2213 South Levis Lane, Godfrey, Illinois 62035:
Find more events on The Nature Institute website: www.thenatureinstitute.org.
Hope to see you there,
Nan and Neil
Editor's note: Heartland Prairie is also the site of our October meeting.