The 2016 Wild Ones Photo Contest is underway!
Four members from our chapter submitted photos this year for the contest. After the winners are announced, we will reveal who submitted which photo.
In alphabetical order by category and then title, here are the photos:
Flora: Garden Doodles
Flora: Ice Ribbons
Flora: Swamp Milkweed Nursery for Lacewing Eggs
Pollinators, Insects or Bugs: Bee and My Shadow
Pollinators, Insects or Bugs: Extra Floral Nectary
Pollinators, Insects or Bugs: Robin's Fall Feast
Pollinators, Insects or Bugs: Silver Spotted Skipper Caterpillar Eating False Indigo Tree
Pollinators, Insects or Bugs: Wild Onion Plant with Ant
The category winners are chosen by judges, and each member has one vote to cast for the People's Choice award.
In order to vote, you must be a current member and log in to the national Wild Ones website.
Votes must be cast by 12:00 midnight on Thursday August 18, 2016.
Instructions for voting:
Click the Member Login button in the upper right corner of the national home page:
From there you can login if you know your information (the green highlighted), be reminded of login, set a new password, or register (the yellow highlighted)

Then scroll down on the member page to find the Photo Contest Voting link.  From there, you will see all of the contest photos and be able to cast your vote.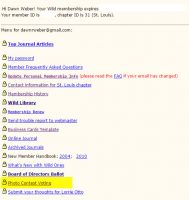 While you're there, check out these other areas of the national site:
Good luck to our members who entered!