Heather Holm is one of the keynote speakers at the Partners for Native Landscaping workshop this coming Friday and Saturday. Her books will be available for sale at the workshop, and she will be available for signing during the Friday social hour as well as during lunch on Saturday.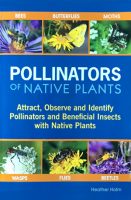 Pollinators of Native Plants: Attract, Observe and Identify Pollinators and Beneficial Insects with Native Plants
By Heather N. Holm
Pollination Press LLC: Minnetonka, MN, 2014
320 pages
Book reviewed by Mary Ann Fink, Curator of the Museum of Transportation's Pollinator Junction
Pollinators of Native Plants, by Heather Holm, is a comprehensive book that profiles 67 native plants and their visitors who seek pollen, nectar, an insect meal, or a host plant. The "pollinators" category includes bees, wasps, beetles, butterflies, moths, and flies.
Holm had me on page vii when she included an excerpt of Neltje Blachan's Nature's Garden: An Aid to Knowledge of Our Wild Flowers and their Insect Visitors, published in 1900. She coaxed me into a trance with a magical visual sequence of close-up photography that masterfully followed Blachan's poetic description of a bumblebee's challenge to gain entrance to a sunlit white turtlehead (Chelone glabra) blossom.
The book is filled with easily more than 1,000 beautiful photos detailing the pollinators and the plants they visit.
The first three chapters provide a lot of basic information. The first chapter covers all aspects of pollination including a grand exploration of flower attractants such as the nectar guides on black-eyed Susans (Rudbeckia hirta) and fun facts about fragrance! Chapters two and three cover the pollinator groups and a wider look at pollinator conservation.
The detail in text is well stated without being too difficult to grasp. The information is so complete that this book, for me, falls affectionately between a reference guide and bedtime reading.
My favorite chapters are those that follow the native plant / pollinator profiles which are then followed by more wonderful charts and more bee genera information. The plants are grouped by habitat: prairie, woodland, and wetland. Each plant profile contain much information including:
Flowering period
Habitat
Range
Soil type and moisture
Plant notes
Complementary plants
The insects that visit the plant
The book also contains helpful reference information, such as citations from other works, a glossary, some garden plans, and a visual index of insects. This index is very handy for getting an initial idea of what insect you may be looking at. My favorite chart is the bee native plant interaction chart, where, given a small planting space, I can try to figure out which plants will give me the most bang for my gardening buck.
My regret is that I won't live long enough to capture all of the same experiences personally, but this is balanced by a surging feeling that no matter how long I poured over this beautiful book, it will always be time well spent!
My only disappointment was the note pages at the end of the book seemed to be too few. I'm not sure if it was a cost consideration or a sad assumption I won't need more pages to log my pollinator observations. That said, I can always start a new notebook!
This book is packed full of information that can open the reader's eyes to the amazing world of insects and how they rely on native plants, and that will have readers seeking out books with more detail on specific insects.
********************************************************************************************
Book reviewed by Dawn Weber, Member-at-Large, Wild Ones – St. Louis Chapter
Heather delivers again! She has a brand new book out about bees.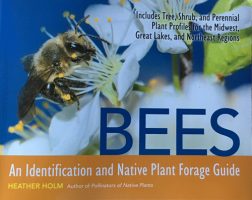 Bees: An Identification and Native Plant Forage Guide
Heather N. Holm
Pollination Press LLC: Minnetonka, MN, 2017
224 pages
On the heels of her successful Pollinators of Native Plants book, Heather has written a detailed guide that shows readers the world of bees and the native plants that support them.
The first chapter is an easily-soaked-in introduction to bees, the life cycle, the anatomy, nesting, and pollination. The next chapters are "Meet the Bees", by family, where the pages are full of graphics representing size, time of activity, lots of photos annotated with comments to help distinguish one bee from another, the life cycle, nest collection, and more. The "Bees at a Glance" section is a side-by-side comparison of each bee genus, which helps you to begin identifying the bees in your habitat.
Then come almost 100 plant descriptions, grouped by type of plant:
Large native trees
Small native trees and large shrubs
Small native shrubs
Annuals, biennials, and perennials
The Pollinators book primarily focuses on perennials, where the Bees book includes a similar list of perennials but also plants in the other canopy layers: large native trees, small native trees, large shrubs, and small native shrubs. Some plants that are solely pollinated by insects other than bees are not included. We so often think about "flowers" when we think of bees, but the spring flowering trees, when typical flowers haven't really started their season yet, are so important that we must include them in our landscapes.
Plants are listed by common and scientific names, which is always good for a wide reader audience.
The layout of plant and insect information is similar between the two books, but I like the wider page layout in the Bees book, with all of the information for one plant on the same page. Readers can learn about which bees are most commonly attracted to the plant, and also which bee species are specialists on that plant.
This book has an extensive reference section, including a bee conservation checklist, glossary, detailed illustrations of a bee's wings, web references, and citations of other works.
In comparison to some other newly published bee books, I find that this one has a good balance of bee information, native plant information, and remembers that home gardeners who want to learn more about the bees may not have a microscope to examine some of the finer points in identifying the bees.
Most of the plants in both books are native to Missouri, and there are range maps displayed with each plant to help readers identify which ones are best suited to their geographic area.
I purchased the Pollinators book when it first came out and have enjoyed getting to know the insects in my yard, but I'd like to be able to better classify the bees that I'm seeing. I'm looking forward to using the Bees book this year to get to know the families better. I had the opportunity to hear Holm speak at a pollinator workshop in Ohio last year, and am really looking forward to learning more about what happens in my yard.