By Ed Schmidt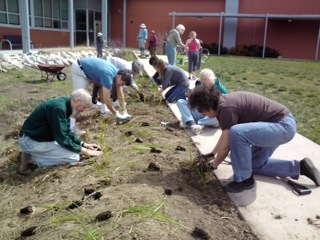 Saturday, April 6, six Wild Ones members joined parents, faculty and a few students to refurbish a large rain garden planting under the direction of Scott Woodbury at Crossroads College Preparatory School on DeBaliviere in St. Louis.
The rain garden was first installed in 2009, and was one of the first institutional rain gardens to be constructed under the guidance of the Metropolitan Sewer District (MSD).  Four large downspouts bring water from the roof of a school addition into the garden.  An overflow takes water into the sewer system if it gets more than a foot deep in the garden.  The refurbishing consisted of weeding, planting, and mulching.  St. Louis Wild Ones donated $560 for plants under its school grant program.
In a note of appreciation the following week, Crossroads Board Chair Susan Lanigan wrote:
Stopped by Crossroads College Prep this morning and the garden looks so beautiful.  It will soon be wild and free again as summer approaches, but with that polished crisp edge that demonstrates how perfect native plants are for every landscape.
Many thanks to you and the St. Louis Wild Ones, especially your wonderful volunteers, for making this amazing transformation possible.
Wild Ones member Glenda Moore has accepted the role of liaison to schools and institutions that apply for grants.  Schools and other non-profit educational institutions interested in creating a native plant garden are encouraged to apply through our grants page.