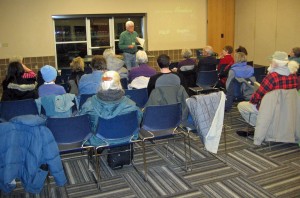 Ed Schmidt welcomed eighteen members and five guests to our first meeting of 2014, which took place at The Heights community center in Richmond Heights. Ed introduced the chapter Board of Directors:
Ed Schmidt – President
Marsha Gebhardt – Vice-President and Volunteer Coordinator
Fran Glass – Secretary
Betty Struckhoff – Treasurer
Amy Redfield – Member at Large and Membership Chair
Brian Hall – Member at Large and Webmaster
Marilyn Chryst – Member at Large and Shaw Nature Reserve Liaison
ANNOUNCEMENTS
School Grant Liaison
Kathy Bildner has agreed to be our acting chapter School Grant Liaison.
Chapter Membership Survey
In December, the chapter Board of Directors sent a survey to the membership to be used as input in the board's decision-making. Amy Redfield, who coordinated the survey, thanked those who responded. She reminded us that we don't have to wait for a survey to bring ideas, thoughts and feedback to the board. Amy stated, "in January at the annual budgeting meeting, we began by reviewing responses to the survey, and found that to be very helpful as we hashed out the budget. We all felt that your input gave the budgeting process a clearer focus, and appreciate the time and thought you gave the survey."
Amy reported that the membership prioritized the following as the top five activities:
Hosting a native plant garden tour open to the public
Having a table or booth at public events, including Earth Day
Participating in the plant sale(s), like our booth at the Spring Wildflower Market at Shaw Nature Reserve
Continuing to participate and help fund the Landscape Challenge, a partnership with Grow Native! and Shaw Nature Reserve
Continuing to fund the Native Plant School, a partnership with Shaw Nature Reserve
Native Landscaping Garden Tour
The board has approved co-sponsorship with Shaw Nature Reserve to plan a community-wide Native Landscaping Garden Tour. Tour will be Saturday, June 14. The cost will be $20 and include approximately eight sites including home yards and public spaces. More details to follow.
ADDENDUM: We are sorry to report that the Grow Wild Garden Tour has been postponed until 2015.  If you would like to help plan and coordinate the tour for next year, please contact Ed Schmidt.
Partners for Native Landscaping Workshop for Homeowners
Doug Tallamy, author of "Bringing Nature Home: How You Can Sustain Wildlife with Native Plants" will be the keynote speaker at this year's Partners for Native Landscaping Workshop for Homeowners on March 21 and 22. Advance registration is required at www.stlouisaudubon.org/PNL.
A sign-up sheet was circulated for volunteers to help with registration and Wild Ones' information table.
Native Plant School at Shaw Nature Reserve
Our chapter is a co-sponsor of the Native Plant School at SNR. Scott Woodbury will use some of our donation to plan different events on evenings or weekends so that working individuals may attend.
PROGRAM
Due to heavy snowfall in Lincoln County, our scheduled speaker from Forrest Keeling Nursery was unable to attend. Instead, we viewed a video, "Urban and Suburban Meadows: Bringing Meadowscaping to Big and Small Spaces" by filmmaker and environmentalist Catherine Zimmerman. Discussion followed.
NEXT MEETING: March 5, 2014, 7 p.m.
Location: The Heights community center in Richmond Heights
Presentation on Monarch butterflies and the Wild for Monarchs Campaign, by Ann Early and Bob Siemer. Learn about attracting and assisting monarchs before the spring migration and Shaw Nature Reserve's plant sale.
For directions, see our online calendar.
Recorded by: Fran Glass, Secretary