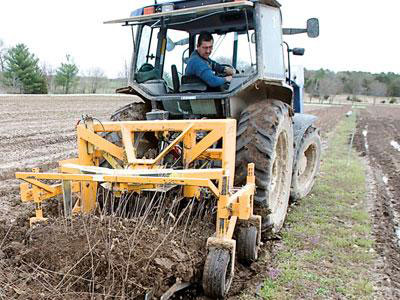 Greg Hass has about 4,000,000 trees to sell. Greg, of course, is the Supervisor of the George O. White State Forest Nursery near Licking, Missouri. He is presently trying to retire. The difficulty is finding someone who can replace him. Interested in the job? You would only have to know how to purchase, store, germinate, grow, harvest, store, and ship the 70 species of trees and shrubs now raised and sold by the Nursery. Also, you would have to supervise 38 to 40 employees, maintain a variety of exotic equipment and buildings, as well as deal with Missouri's erratic weather, marauding squirrels, deer, etc. and flooding streams. There is presently a prospective manager beginning to train for the job, but if he doesn't work out, you might want to update your resume.
The official version of the history of the nursery (from http://mdc.mo.gov/landwater-care/landowners-and-farmers/seedling-orders/state-forest-nursery) is:
The George O. White State Forest Nursery is in Texas County about three miles northwest of Licking. It offers Missouri residents a variety of seedlings for reforestation, windbreaks, and erosion control, as well as wildlife food and cover. Order seedlings from mid-November to the end of April each year.
History of the Nursery
The George O. White State Forest Nursery is in Texas County about three miles northwest of Licking. The U.S. Forest Service originally purchased and operated the nursery. A Forest Service employee who eventually became the first State Forester of Missouri inspected the site in April 1934. The nursery was renamed and dedicated in honor of this man, George O. White, upon his retirement on January 1, 1960.
The site was purchased in 1935 to grow shortleaf pines seedlings. The National Forests in Missouri had just been designated and thousands of acres were in need of reforestation. This site was chosen because it was suited for growing pine seedlings and was centrally located within the National Forests.
Over the next few years, with the aid of the Civilian Conservation Corps (CCC) enrollees, Works Projects Administration (WPA) workers and local labor, an office, nurseryman's residence, shop, warehouse, deep well, irrigation system and cold storage building were constructed. To accommodate the CCC enrollees, two barracks, kitchen, mess hall and a camp PX were built.
World War II dissolved the CCC program, funds for reforestation disappeared and the nursery was closed. In August 1947, the Conservation Department signed a special use permit with the Forest Service. The permit gave the Department full use of the nursery, tools, building and equipment. In return, the Department agreed to produce 2 million shortleaf pine seedlings annually for Missouri National Forests. In 1976, the Department obtained title to the nursery property from the Forest Service.
The original nursery property was 40 acres and had about 15 acres of seedbeds. Over the years, several acquisitions increased the size of the nursery. Today, the total acreage of the nursery is 754 acres with 50 acres of seedbeds.
Three deep wells and an improved irrigation system allow the seedbeds to be irrigated during the summer. During the past 10 years a new office, packing building and cold storage building have been constructed. This addition placed all grading, packing, storage and shipping operations in one building, greatly improving the efficiency of the nursery.
In the early years of operation, nearly all seedling production was shortleaf pine, with more than 10 million seedlings shipped annually. During the 1950s, multiflora rose was a very popular seedling. Autumn olive, tatarian honeysuckle and other non- native shrubs were in demand in the 1970s. As landowner needs have changed, so has nursery production. The minimum order today is 25 trees, reduced from 200 a few years ago. The nursery now grows more than 70 different species of trees, shrubs and prairie forbs. Except for a few pine species and wildlife shrubs, all are native Missouri plants. Each year the nursery processes more than 13,000 orders and ships about four millions seedlings.
To grow all these species, each summer and fall the nursery collects or buys tens of thousands of pounds of seeds. For example, about 5,000 bushels of walnuts, 15,000 pounds of white oak acorns, 8,000 pounds of hazelnuts and 600 pounds of plum seed are needed just to establish seedlings for these four species.
Harvesting trees begins about the last week in November. A tractor drawn machine uproots the trees; workmen pick up the plants, remove the loose dirt and place them in bins. They are then placed on carts in a cooler (temperature 34o – 35o F) where the trees are kept moist and the air dry. The sorting crew then sorts for size, removes damaged or undersize/oversize trees and gathers them in bundles of 25. About 20 % of the plants are waste. Some species do not keep well in storage and are dug last. These include flowering dogwood, conifers, and persimmons. Other dogwoods are much hardier.
Orders are wrapped in moist sphagnum moss (They purchase three semi-truck loads a year.) and wrapped in a special paper fortified with plastic and fiber They are shipped by either UPS or US Post Office, or the purchasers can pick them up at the nursery. The nursery may not send the plants if the ground is frozen and does not ship past Wednesday so they will not sit in the shipping facilities over the weekend.
Orders are taken from November 15 to April 30, and, as of the beginning of December several thousand orders had been received. At this writing, December 31, five categories are already sold out. View the online order form.
To be continued.
Editor's note: I have ordered a Wetlands bundle, a Wild Edibles bundle, and 25 each of Slender Lespedeza, Spicebush, and American Beauty Berry and don't have many places to plant them, so if you need any of those, let me know. They will be shipped in March.