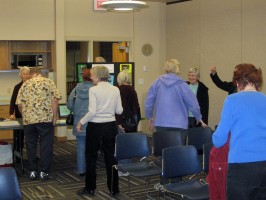 Membership Chair Betty Stuckhoff welcomed thirty-two members and guests at The Heights community center of Richmond Heights.
Announcements and Volunteer Opportunities
St. Louis Earth Day Festival in Forest Park – April 21
Seedling wrapping – April 20
Fran Glass circulated volunteer sign-up sheets to staff our educational booth at the Festival and for wrapping MDC seedlings to give-away.
We need plastic newspaper sleeves to wrap 400 Missouri Department of Conservation seedlings. Please bring them to the April meeting.
Spring Wildflower Market at Shaw Nature Reserve – May 10 and 11.
Marilyn Chryst circulated sign-up sheets to set-up, staff, and take down our native plant sale booth at the Spring Wildflower Market.
Website & Blog
Brian Hall recruited members to attend a blog post training session, which he plans to offer in spring.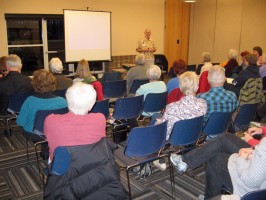 Program
Tom Krauska, aka Tom Terrific, gave a Butterfly Gardening presentation based on gardening experiences at his Sunset Hills home and in school gardens.
Next meeting
April 3, 6 p.m. – Little Creve Coeur (Lake) Restoration Project
Dennis Hogan who manages the St. Louis County Parks' naturally landscaped areas will host this tour. We will be walking about one mile on flat ground.
This location is west of the Creve Coeur Lake most people know, and west of Page Ave.
Get directions.
Recorded by: Fran Glass, Secretary