By April Anderson
Here are 2 'before' photos of my tiny backyard. Upon removing this excessive amount of ivy, I found oak, hackberry, and redbud saplings. From my former home in the Chicago area, I brought New England aster, butterfly weed, black-eyed Susan, zigzag goldenrod, rosin weed, Joe Pye weed, and marsh milkweed along with gifts of nodding wild onion, and prairie smoke.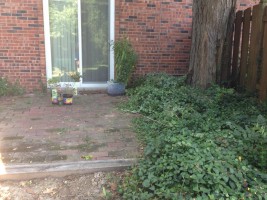 The neighbors here complain about deer, so I'm trying to make choices that will not be as attractive for browsing. I will post "after" photos once we get beyond the empty, crunchy stage. If you have native plants that need to be thinned, please let me know. I'm targeting part-sun plants that like sandy loam — in essence, dry shade. It will be fun to see what happens.
April, the new transplant!
E-mail April if you have plants to share.
Editor's note: April, who was previously a member of the Northern Kane county Wild Ones chapter, recently moved to St. Louis. She says she's eager to connect with a community of thinkers who share the environmental values she holds dear.
She is also looking for work in the field teaching others about nature, writing about nature, and providing sustainable designs. She has been a naturalist for over 20 years and an "Open Spaces" writer for Quintessential Barrington Magazine for about half this time. Read her article about monarch butterflies.